Category Archives:
2020
Rebirth was written and illustrated by Woo. It was brought stateside by TokyoPop. Rebirth originally debuted in 1998.
Spoilers: Just ones covering this volume and not the series as a whole.
Plot: Over 300 hundred years ago a powerful vampire named Deshwitat loses a fight and is sealed away but not before his love, Lilith, dies. Flash forward to today (or well 1998, but you know what I mean) and we meet a handful of professors. Our main professor is named Shangho Do and him and his daughter, Remi Do, are visiting a few doctors. You can tell Woo loved some Resident Evil. The two doctors are named Dr. Chris Redfield and Dr. Leon Kennedy. I love it. Well, things go awry when these demonesque creatures emerge and start killing the doctors.  Remi is innocent and when her blood spills on the demons it breaks the seal unleashing Deshwitat from his imprisonment.
This is when the drama begins. Let me introduce Millenear Shephield real quick. She is a pretty cool exorcist trying to help the doctors fight the demons. Okay, so Deshwitat is too weak to fight the demons since he has been in a suspended state for 300 years. Shangho actually sacrifices himself to Deshwitat to strengthen him. In return, Deshwitat kills all the demons and sets out for revenge against those who killed his beloved Lilith. However, he needs Millenear to teach him light magic. Remi, naturally so, wants revenge against Deshwitat for killing her dad. (Yes, her dad sacrificed himself to save all three of them, but oh well.) The catch is, Reni has to wait for Deshwitat to die or her dad will come back as an eternal vampire.
I don't know if I did the best job explaining the plot, but it is really good for a story about vampires.
Characters:
Deshwitat- He is the main character and is a vampire endowed with dark magic. He is absent for most of the manga as he floats in limbo until the seal is broken. I'm led on to believe we get to know more about him in later volumes and that he will be quite interesting. As of right now, he is a cool, strong lead who seems to be morally gray. He is bent on defeating his enemies and avenging his love. Standard stuff, cool design.
Remi Do- You got to feel for her. She didnt want to take the trip with her dad. Then, monsters attack. Finally, her dad dies to said monsters. It is brutal world sometimes. She was pretty enjoyable and you relate for her at times. She is tagging along Deshwitat's quest as she hopes to kill him in the end and save her father.
Millenear- Her character honestly seemed random. We are introduced to her as her car breaks down. Though she feels the evil appearing and makes quick haste on foot to the doctors. Her purpose is later revealed as the person who will train Deshwitat in the ways of light magic. She is devout and a strong believer in her faith. So far there isn't too much more to add to her character at this point.
The World: This world is just like ours except with light and dark magic. Demons are real and attacking. Vampires are real as well. Again, think earth but with supernatural and hyper-realistic religious ideas.
Recap: It takes a little bit to get going but is never bad.
Action: Yes sir (or lady).
Romance: Well, Deshwitat had a wife but she is dead so… there's that.
Plot: Seems pretty typical of the vampire genre, but it is enjoyable.
Characters: A nice bunch. I liked them when they were on the panels but time will tell how memorable they are.
The World: It is standard for books like this. We will see if they dive more into lore and such that could make it stand out.
Humor: While it had it's moments, I don't remember this being particularly funny. In a lot of ways this is a story about love and what lengths we would go to for revenge if we lost them.
Verdict: Again, nothing groundbreaking. It is more so just a solid story through the first volume. The characters are good, the dialogue is good, and the action is solid.
Score: 8 out of 10. It is definitely worth reading the first volume to see what you think.
Thanks again for reading and have a great day everybody!
Continued Reading down below!
Somali and the Forest Spirit Episode 1 Review!
Manga Monday: Clay Lord Master of Golems
The Mandalorian Review
Girlish Number- Random Wednesday Number 1
Somali and the Forest Spirit is a brand new anime based off the manga of the same name. It is available on Crunchyroll.
.
(I do not own the rights to any pictures used in this blog. All rights reserved to their respective owner)
Spoilers: None really as this is the first episode.
Plot: Set in an alternative reality where humans are nearly instinct, the story picks up by introducing the forest spirit, Golem. While venturing in his forest, he stumbles across a human girl, Somali. Title sequence, fast forward, bam, the two have now formed a duo. Not much more information is given beyond that. However, Golem does reveal later on that they are on a quest for more humans. This quest is a little strange. For starters, a side characters comments something to the effect of, "I didnt think you spirits left your forest.". Couple that with the fact Golem is void of emotions and always tries to think logically, it appears to be an uncharacteristic behavior. I wanted to set up the plot but I want to dive more into this during our "character" portion.
Characters: Lets focus on the primary two. We will start with Somali. Her name is listed first, but from the first episode I don't see her has the main character, that would be Golem in my opinion so far. She is one of the last remaining humans. Golem finds her shackled in the woods for some reason. In the city they visit, characters made mention of keeping humans as pets, but the show never tells us why she is in the woods. Despite not knowing her parents and being held against her will, Somali is a very fun loving and free kind of person. She is often distracted by the pets, which by the way, animals are now humanoid and are the main inhabitants of the world. This offbeat, carelessness gets her in trouble. By the end of the episode, I cannot really say she's undergone any form of change. She even utters the say line from one of the early scenes.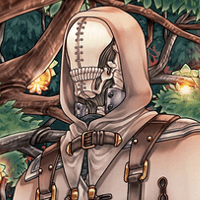 Golem, on the other hand, is very straightforward, logical, and systematic. Every move is very well thought out and often correct. There's a lot to break down and love about his character. From the early scenes of the show, he is lead on to be a machine, basically. He is void of emotion. He is stubborn. He is unwavering in his decisions. I say all of this, and yet, he undergoes so much change in the first episode. I'm actually really impressed. For starters, Golem is untrusting of the species living in the village. He fears they want Somali (he is probably right, too). He clamps his hand over her mouth and tells her not to be loud as he listens to people walk by their room. Him having no emotions is brought back up and Somali says something along the lines of, "I could feel you shaking. You can't fool me.". I dont remember the exact quote but it basically was saying that when he thought Somali might be in danger, it caused him to have feelings.
Secondly, while walking around the market district, Golem noticed all the parents holding onto their kids. I really liked this scene. Initially, the scene looks like it is being experienced through Somali's eyes. This made me feel sad for Somali on account of her not having parents. By the end of it, you realize Golem was actually paying attention to how the parents interacted with their kids. All this leads up to is them holding hands (um, fingers?), but it will be more powerful once you actually watch the episode. \
The World: Oh, boy. Considering I think the aspect of humans being nearly exist is kinda over done, this show reinvigorated the genre for me. The forest scenery is beautiful. The animals of the world are brand new species as it appears as if cross breeding has occurred. You'll have cats with 5 tails, rabbits with antlers, a butterfly on two legs. Every character is a new species and that makes it fun getting introduced to new characters. So far, we've only seen one forest and one city.
Recap: 2020 anime is getting started on a good foot. This is a great anime to start your year off.
Action: So far, sparingly. Though, as they get deeper into their hunt for humans, I wouldn't be surprised if action came up from time to time.
Romance: Our main characters are a forest spirit with no emotions and a child. In other words,

Plot: Didn't overly care for it before. Now I am very interested in seeing where it goes.
Characters: For two characters that seem shallow up front, I think they are very good characters that will have surprising depth by the end.
The World: Cannot wait to see other places there are to explore.
The Humor: This show is about personal relationships and the journeys we take together, but it can be funny.
The Ending: Maybe one of the best endings to an episode one I've ever seen. It does more than make we say "I cannot wait for episode two.". It also shows growth in our main character right from the start and makes this story that much more enjoyable.
Verdict: Obviously we cannot grade the entire season on one episode, but this is about a promising start as there is. I will be tuning in weekly to see this one develop.
Score: 9.75 out of 10. Remember I'm grading this based off of episode one. I'm not saying the season will remain this strong. I'm just saying that as an introduction, you'd be hard pressed to find one that does it better.
Let me know what guys thought of this one down below.
Thanks so much for reading and have a great day!
Continued reading down below!
Dr. Stone Episode One Review!
The Mandalorian Review
Games that COULD come to the Nintendo Switch this year! (2020)
Girlish Number- Random Wednesday Number 1
Real quick. Dont feel like reading a long article? This discussion exist in video form too on my Youtube channel.
Okay so 2020 has kicked off and people are already speculating on if some Wii U games will be ported to the Switch.  So let's have some fun and look at games that might be coming to the Switch. 
Now believe it or not I actually tried to use some logic with this list. I looked at what people were wanting ported over so I knew there was at least interest in these games, plus the likelihood and how easy it was to port over these games were. Did Nintendo stand to gain anything from the effort,  how would they control on the Switch and so on and so forth. Now here's the tricky thing. I dont think the Switch needs a whole lot of Wii U ports, so while I'll be making a case for I'll have arguments against most of these games. So let's take a look at my list.
#1 This, in my opinion, is easily the strongest candidate of them all. Super Mario 3D World. What? Super Mario 3D World is a gem. I got it basically when I got my Wii U and I wont go too much into detail in this blog but I do have a new found appreciation for this game. Correct me if I am wrong but i don't believe Nintendo has any Mario games lined up the Switch right now which blows my mind. We've carved through the Tennis Mario, the Rabbid Mario, The Odyssey Mario, The New Super Mario Bros, The Party Mario and the Kart Mario so now are waiting for Odyssey 2. This would be a great holdover. I've heard people mention Color Splash but A, that game is dependent on the Gamepad (after talking to myself, I dont think it relies on the Gamepad) and B. I thought people didnt like it? I could be wrong there.
#2. Nintendo Land. Okay, Okay. I have officially lost my mind. This goes against all my rules. But hey, It's a great game. And if I hadnt lost you already, I just did. I thoroughly enjoyed my time with Nintendo Land but again, Nintendo, I believes, wants to give you the option to play in handheld mode exclusively which, just wouldnt work for Nintendo Land. It's too dependant on the Gamepad and probably wont happen. The game may need some reworking around the need for the Gamepad, but I wouldnt be opposed to picking it up again on the Switch if it retailed for say 20 bucks and featured new Minigames and such. Maybe to reflect Bayonetta and Astral Chain, Wonderful 101, Tokyo Mirage Sessions as well as Splatoon.
#3 Wonderful 101- Again you're going to see a constant theme of games needing to be reworked. I think Nintendo and Platinum have something to gain from this release and honestly, maybe it should be my number 2 instead but oh well, the script as already been created. Either way, Wonderful 101 is beloved but it is also stuck on the Wii U which just had such a lower install base. Now, to my knowledge, Platinum Games has been hard at work on Bayonetta 3 following Astral Chain. So I'm not sure if Platinum games would be over seeing the port or how that works. If that's the case, I'm not sure how badly Platinum would want to allocate resources to porting it over. However, it did sale well, a new age of fans would be crying for Wonderful 102 or whatever they decide to call it.
4. Pikmin 3. The first game on the list I have never played. So I cannot speak to how dependent on the Gamepad this game is. Regardless, I kind of disregarded this port considering all of the talk about Pikmin 4. Also, Ive heard people say they would prefer a Trilogy much in the way Metroid Fans are clamoring for. However, if we dont get the trilogy the more and more I write this the more I think this could be a solid port. Pikmin 4 looks like it is taking longer than expected so giving us Pikmin 3 remastered could solve a lot of issues. A. it would tid over Pikmin fans while finishing up Pikmin 4. B. It would introduce a new generation to Pikmin. Pikmin 1 and 2 came out on the Gamecube and a lot of hardcore players jumped off the Nintendo bandwagon with the Wii meaning plenty of people could have missed the 3rd installment after loving the first 2.
#5. Star Fox. What can I say? I enjoy Star Fox even if I've never been into shoot em ups. Again, how dependent are you on the Gamepad? For Star Fox. Entirely. The Wii U Gamepad provides a cockpit view. There's no way to have the Switch provide the same view while also being docked. This game needs a remaster, desperately, but it probably needs to be reworked. If they do it right this could spark interest in a new Star Fox sequel which is never a bad thing. 
So there's my list. Trust me I know there's better games. Splatoon for example is not very dependent on the Gamepad as it just serves as a map. Move that up to the TV screen or do away with it entirely and you're golden. Just not sure if they do this since we already have Splatoon 2 and I think most would prefer Splatoon 3 over a remake of the first. Its the same problem with the other 2 Zelda games. Who wants to re-buy those games for a 3rd time when Skyward Sword is still trapped on the Wii? So I think Mario 3D World and Pikmin have the most realistic shot even if I didnt order them that way. Either way, let me know what games you guys want to see ported over. I really dont think the Switch needs anymore, but they're probably coming none the less.