Category Archives:
Episode 1 Reviews
Somali and the Forest Spirit is a brand new anime based off the manga of the same name. It is available on Crunchyroll.
.
(I do not own the rights to any pictures used in this blog. All rights reserved to their respective owner)
Spoilers: None really as this is the first episode.
Plot: Set in an alternative reality where humans are nearly instinct, the story picks up by introducing the forest spirit, Golem. While venturing in his forest, he stumbles across a human girl, Somali. Title sequence, fast forward, bam, the two have now formed a duo. Not much more information is given beyond that. However, Golem does reveal later on that they are on a quest for more humans. This quest is a little strange. For starters, a side characters comments something to the effect of, "I didnt think you spirits left your forest.". Couple that with the fact Golem is void of emotions and always tries to think logically, it appears to be an uncharacteristic behavior. I wanted to set up the plot but I want to dive more into this during our "character" portion.
Characters: Lets focus on the primary two. We will start with Somali. Her name is listed first, but from the first episode I don't see her has the main character, that would be Golem in my opinion so far. She is one of the last remaining humans. Golem finds her shackled in the woods for some reason. In the city they visit, characters made mention of keeping humans as pets, but the show never tells us why she is in the woods. Despite not knowing her parents and being held against her will, Somali is a very fun loving and free kind of person. She is often distracted by the pets, which by the way, animals are now humanoid and are the main inhabitants of the world. This offbeat, carelessness gets her in trouble. By the end of the episode, I cannot really say she's undergone any form of change. She even utters the say line from one of the early scenes.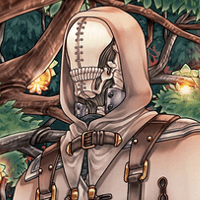 Golem, on the other hand, is very straightforward, logical, and systematic. Every move is very well thought out and often correct. There's a lot to break down and love about his character. From the early scenes of the show, he is lead on to be a machine, basically. He is void of emotion. He is stubborn. He is unwavering in his decisions. I say all of this, and yet, he undergoes so much change in the first episode. I'm actually really impressed. For starters, Golem is untrusting of the species living in the village. He fears they want Somali (he is probably right, too). He clamps his hand over her mouth and tells her not to be loud as he listens to people walk by their room. Him having no emotions is brought back up and Somali says something along the lines of, "I could feel you shaking. You can't fool me.". I dont remember the exact quote but it basically was saying that when he thought Somali might be in danger, it caused him to have feelings.
Secondly, while walking around the market district, Golem noticed all the parents holding onto their kids. I really liked this scene. Initially, the scene looks like it is being experienced through Somali's eyes. This made me feel sad for Somali on account of her not having parents. By the end of it, you realize Golem was actually paying attention to how the parents interacted with their kids. All this leads up to is them holding hands (um, fingers?), but it will be more powerful once you actually watch the episode. \
The World: Oh, boy. Considering I think the aspect of humans being nearly exist is kinda over done, this show reinvigorated the genre for me. The forest scenery is beautiful. The animals of the world are brand new species as it appears as if cross breeding has occurred. You'll have cats with 5 tails, rabbits with antlers, a butterfly on two legs. Every character is a new species and that makes it fun getting introduced to new characters. So far, we've only seen one forest and one city.
Recap: 2020 anime is getting started on a good foot. This is a great anime to start your year off.
Action: So far, sparingly. Though, as they get deeper into their hunt for humans, I wouldn't be surprised if action came up from time to time.
Romance: Our main characters are a forest spirit with no emotions and a child. In other words,

Plot: Didn't overly care for it before. Now I am very interested in seeing where it goes.
Characters: For two characters that seem shallow up front, I think they are very good characters that will have surprising depth by the end.
The World: Cannot wait to see other places there are to explore.
The Humor: This show is about personal relationships and the journeys we take together, but it can be funny.
The Ending: Maybe one of the best endings to an episode one I've ever seen. It does more than make we say "I cannot wait for episode two.". It also shows growth in our main character right from the start and makes this story that much more enjoyable.
Verdict: Obviously we cannot grade the entire season on one episode, but this is about a promising start as there is. I will be tuning in weekly to see this one develop.
Score: 9.75 out of 10. Remember I'm grading this based off of episode one. I'm not saying the season will remain this strong. I'm just saying that as an introduction, you'd be hard pressed to find one that does it better.
Let me know what guys thought of this one down below.
Thanks so much for reading and have a great day!
Continued reading down below!
Dr. Stone Episode One Review!
The Mandalorian Review
Games that COULD come to the Nintendo Switch this year! (2020)
Girlish Number- Random Wednesday Number 1