Monthly Archives:
October 2020
Happy Early Halloween! Today, we will be addressing just who are the creepiest, scariest, and downright dreadful Pokemons. This will be inspired by designs, actions, and lore all created from the game, show, and Pokedex entry alike. I hope you guys enjoy!
#5 Banette
Banette makes this list solely on the back of Pokedex entry. "A doll that became a Pokémon over its grudge from being junked. It seeks the child that disowned it." Personally, I have never cared for Banette as a Pokemon. I normally don't go for the whole "doll come to life" storyline. However, there is no denying that that angle is enough to freak people out. As a kid, I wanted to get in on the Goosebumps hype. The book I tried to read was Night of the Living Dummy 3 (even though this was probably a decade and a half ago, I still remember the cover. haha) I don't know if the book was actually scary or if I just was so not into creepy stuff that I never bothered finishing it. Either way, I can respect people's fear of Banette.
#4 Yamask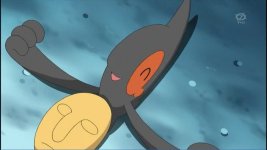 Yamask is plenty creepy on their own. However, they are not really that scary. Yet, their lore and backstory is as sad as it is eerie. The mask that Yamask carry with them are believed to be their faces. It is also said that they look at their former faces and cry. Again, this entry is more sad than terrifying, but I think it is enough to be creepy.
#3 Phanthump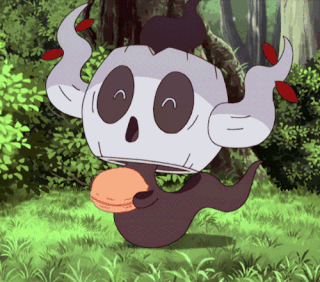 Phanthump is definitely a Pokemon I have gone back and forth with here. On one end, Phanthump tries to make friends with people in the woods. However, their efforts ultimately end up getting the people lost in the woods. Not great. One Pokedex entry even goes as far as to say "These Pokémon are stumps possessed by the spirits of children who died in the forest. Their cries sound like eerie screams." Really, I made this list assuming anything talking about dead kids in a kids game would make the list. I was thoroughly surprised at how many Pokemons deal with dead kids. Truly startling.
#2 Drowzee
Trust me when I say there is plenty going for Drowzee to make him number 1. However, for tonight, he will have to settle as number 2. Drowzee's design is offputting but it mostly looks dopey. Not really too menacingly looking. However, Drowzee is a Gen I Pokemon. We have a rich history of Pokedex entries to pull from for it. Here are some of my favorite.
"If you sleep by it all the time, it will sometimes show you dreams it has eaten in the past."
"If you think that you had a good dream, but you can't remember it, a Drowzee has probably eaten it."
"It remembers every dream it eats. It rarely eats the dreams of adults because children's are much tastier."
"Puts enemies to sleep then eats their dreams. Occasionally gets sick from eating bad dreams."
Drowzees are creepy, man. They seem lighthearted until they start eating your kids dreams. One thing I can totally appreciate though is the design space of Drowzee. The creators definitely looked like they had some fun writing those entries. They use Drowzee as a way of explaining some of the greatest mysteries about dreams. Such as why we forget our dreams the next day.
Here are the Honorable Mention
Gengar- I put some pressure on myself to try and squeeze the OG Spooky Boy into the list. However, while he is undoubtedly creepy at the start of the anime, he became a good friend of Ash's and that hurt the creepy factor. Still he is the Godfather of Ghost Pokemons everywhere. For that, he will always have my respect.
Drifbloon- This Mon is super disturbed. Drifbloons take kids by their hands and just lead them off. Yeah, they literally kidnap kids presumably to kill them… (They also hate fat kids)
Duskull- I'm just going to list some of my favorite pokedex entries for this guy.
"There is an oft-told admonishment given to misbehaving children that this Pokémon will spirit away bad children who earn scoldings from their mothers."
"It loves the crying of children. It startles bad kids by passing through walls and making them cry."
#1 Mimikyu-
The second Mimikyu was revealed, I knew this guy would make this top five. I've heard some good rumors revolving around this guy. Like how whatever it's real form is, no one liked it. It chose to dress up like Pikachu so people would give it attention. Than, of course, there is this entry. "Its actual appearance is unknown. A scholar who saw what was under its rag was overwhelmed by terror and died from the shock.". I don't know if we've had an entry where someone died just from looking at it. Somehow on Pokemon's official site, they only have Mimikyu listed at 20! Come on. This guy might be the creepiest Pokemon yet.
Check out their full list here https://www.pokemon.com/us/halloween/countdown/
Well, that's it for me. I hope you guys enjoyed this post. Let me know what you guys think are the creepiest, scariest Pokemons!