Blog Archives
Happy Early Halloween! Today, we will be addressing just who are the creepiest, scariest, and downright dreadful Pokemons. This will be inspired by designs, actions, and lore all created from the game, show, and Pokedex entry alike. I hope you guys enjoy!
#5 Banette
Banette makes this list solely on the back of Pokedex entry. "A doll that became a Pokémon over its grudge from being junked. It seeks the child that disowned it." Personally, I have never cared for Banette as a Pokemon. I normally don't go for the whole "doll come to life" storyline. However, there is no denying that that angle is enough to freak people out. As a kid, I wanted to get in on the Goosebumps hype. The book I tried to read was Night of the Living Dummy 3 (even though this was probably a decade and a half ago, I still remember the cover. haha) I don't know if the book was actually scary or if I just was so not into creepy stuff that I never bothered finishing it. Either way, I can respect people's fear of Banette.
#4 Yamask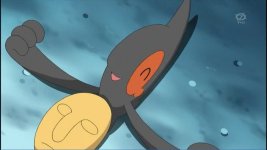 Yamask is plenty creepy on their own. However, they are not really that scary. Yet, their lore and backstory is as sad as it is eerie. The mask that Yamask carry with them are believed to be their faces. It is also said that they look at their former faces and cry. Again, this entry is more sad than terrifying, but I think it is enough to be creepy.
#3 Phanthump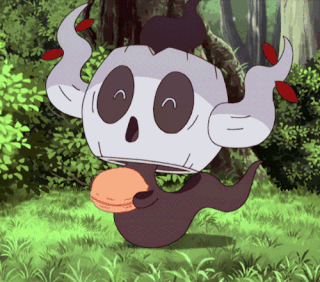 Phanthump is definitely a Pokemon I have gone back and forth with here. On one end, Phanthump tries to make friends with people in the woods. However, their efforts ultimately end up getting the people lost in the woods. Not great. One Pokedex entry even goes as far as to say "These Pokémon are stumps possessed by the spirits of children who died in the forest. Their cries sound like eerie screams." Really, I made this list assuming anything talking about dead kids in a kids game would make the list. I was thoroughly surprised at how many Pokemons deal with dead kids. Truly startling.
#2 Drowzee
Trust me when I say there is plenty going for Drowzee to make him number 1. However, for tonight, he will have to settle as number 2. Drowzee's design is offputting but it mostly looks dopey. Not really too menacingly looking. However, Drowzee is a Gen I Pokemon. We have a rich history of Pokedex entries to pull from for it. Here are some of my favorite.
"If you sleep by it all the time, it will sometimes show you dreams it has eaten in the past."
"If you think that you had a good dream, but you can't remember it, a Drowzee has probably eaten it."
"It remembers every dream it eats. It rarely eats the dreams of adults because children's are much tastier."
"Puts enemies to sleep then eats their dreams. Occasionally gets sick from eating bad dreams."
Drowzees are creepy, man. They seem lighthearted until they start eating your kids dreams. One thing I can totally appreciate though is the design space of Drowzee. The creators definitely looked like they had some fun writing those entries. They use Drowzee as a way of explaining some of the greatest mysteries about dreams. Such as why we forget our dreams the next day.
Here are the Honorable Mention
Gengar- I put some pressure on myself to try and squeeze the OG Spooky Boy into the list. However, while he is undoubtedly creepy at the start of the anime, he became a good friend of Ash's and that hurt the creepy factor. Still he is the Godfather of Ghost Pokemons everywhere. For that, he will always have my respect.
Drifbloon- This Mon is super disturbed. Drifbloons take kids by their hands and just lead them off. Yeah, they literally kidnap kids presumably to kill them… (They also hate fat kids)
Duskull- I'm just going to list some of my favorite pokedex entries for this guy.
"There is an oft-told admonishment given to misbehaving children that this Pokémon will spirit away bad children who earn scoldings from their mothers."
"It loves the crying of children. It startles bad kids by passing through walls and making them cry."
#1 Mimikyu-
The second Mimikyu was revealed, I knew this guy would make this top five. I've heard some good rumors revolving around this guy. Like how whatever it's real form is, no one liked it. It chose to dress up like Pikachu so people would give it attention. Than, of course, there is this entry. "Its actual appearance is unknown. A scholar who saw what was under its rag was overwhelmed by terror and died from the shock.". I don't know if we've had an entry where someone died just from looking at it. Somehow on Pokemon's official site, they only have Mimikyu listed at 20! Come on. This guy might be the creepiest Pokemon yet.
Check out their full list here https://www.pokemon.com/us/halloween/countdown/
Well, that's it for me. I hope you guys enjoyed this post. Let me know what you guys think are the creepiest, scariest Pokemons!
Today, we will be diving into changes and additions made between the first 2 generations of Pokemon. This list is of my opinions and Id love to hear what you guys think are the best additions.
HM New Pokeballs. The Gen 2 Pokeballs have been the focal point of a past blog post. They are coming in as an Honorable Mention because, at the end of the day, they sadly were not that great. I watched a video discussing how half of these Pokeballs did not alter the catch rate like they claimed. Despite not living up to their hype, it was still Gamefreak flexing some creative muscles and trying to add some depth to a simple concept like the Pokeball. I still to this day have fond memories of this addition from the days of the anime.
#5 Making Legendary Pokemons apart of the story- Do not get me wrong, Mewtwo is awesome and is still the Macdaddy of legendary Pokemons. However, he is barely mentioned at all through the main story. In Gen 2, Suicune, Ho-oh, Lugia, and even Celebi come up in dialogue quite often. Ecruteak City is one of the more memorable towns in all of the Pokemon regions due to it being a big central location of the story. While I think legendaries did not hit their stride unto Hoenn, Gen 2 set a precedent for making the legendary Pokemon more of point to the story.
#4 Rematches- The deeper I get into this, the more I realize a "Features Generation 3 expanded on" is going to be an easy blog. Rematches were sorely missing from Generation 1. The reason this is a big deal is because it limited experience and money the player could earn. Beating other trainers dishes out the most experience and cash flow. Generation 2 introduced rematches. Thanks to the Pokegear, the player could receive random phone calls from trainers they have beaten in the past.
#3  Held Items- Pokemons holding items seems like a concept as old as the game itself. However, this feature was an addition added in Johto. They showcased this by having your starter hold a berry. Which was a nice touch in the early stages of the game. But this is not even the best example nor does it illustrate the role items have had. From using the experience share to help aid you in leveling up, to the choice items (scarf, band, sash). Later generations have even added Mega Stones, Z moves, and evolites. Needless to say, held items have become such a crucial part of the game.
#2 Genders- This extends to pokemons and trainers. In the Kanto days there was just one trainer Red. Also pokemons were genderless. In Generation 2 the world was introduced to a female trainer. While I am a Male Pokemon trainer, it would be foolish to not recognize the growing number of female trainers playing this awesome game. It's only natural Pokemon would evolve to the point where we had female trainers represented in the game. Still, good on you Gamefreak for making this simple but much needed addition. As for pokemon's gender, well we will get to that in the next point.

#1 Breeding- Breeding is and was the definition of a game changer! It introduced baby forms (Pichu, Magby, Elekid to name a few). Which was really it's claim to fame in Gen 2. When later games added natures, evs, and ivs, breeding became paramount. It was at the forefront of any serious competitive team. Generation 2 also saw egg moves become a part of the game thanks to breeding. Some Pokemons could only learn a move by having that move passed down from the parent Pokemon. With different egg groups, exclusive egg moves, competitive breeding for perfect ivs and nature, and the introduction of baby Pokemons, I would have to give Breeding the number 1 spot on Top changes and additions from Gen 1 to 2!
Thanks for reading everybody!
Have a great day!
Top 5 are backs! And today we have a good one too.
Im currently playing through Pokemon Leaf Green. In the original generation (Kanto) there were 151 Pokemons (including Mew). With that in mind, for one reason or another, I've never owned all 151. Today, we're going to look at some Pokemons I've never owned. Specifically, Red, Blue, and Yellow, as Fire Red and Leaf Green changed some things.
Lets get into the list:
#5 Flareon.

I had a tough time picking between Flareon and Jolteon. Honestly, this could include almost any electric type and any fire type. Their move pool was so shallow and they didnt learn good moves until it was basically too late. Using Flareon for example, it learned Ember at 31, Fire Spin at 44, and Flamethrower at 54? 54! That's crazy. And the Pokemon Competitive scene (Which I wasn't apart of at the time) had different rules. I cannot possibly see Flareon as being anywhere good enough for competitive standards at the time. But this trend of learning your best move in your 50's was a common theme, and problem for that matter, for a lot of Pokemons. The problem may exist for many different types, but for me, Fire was the Poster Poke for getting messed over by this trend. Lets look at some of the other options:
Magmar is another fire Pokemon I love but the movepool problem plagued him. He learns Ember, Fire Punch, and Flamethrower. He learns Flamethrower at lv 55. It's just too big of a problem.
While these problem specifically apply to competitive use, it also impacted my decision playing through the old games.
#4 Pinsir-

So, bug is argubly one of three favorite types, however they definitely got the short end of the stick in gen 1. Just wait until you hear this. There was only 4 bug moves! Let's compare that to the others:
Flying: 7
Water: 9
Fire: 5
Normal: over 70!
Grass: 10
Electric: 5
Ghost: 3
Psychic: 15
Dragon: 1!
Fighting: 9
Ground: 6
Rock: 2
Ice: 6
Poison: 8
So, as you can see, Bug was not hit the hardest (That would be Dragon and Ghost), but its moves just did it no favors. I personally think Bug had 3 of the coolest Pokemons from Gen 1 in Pinsir, Scyther, and Beedrill. But they are almost unusable. If youre curious, the 4 bug moves are: Leech Life, String Shot, Pin Missile, and Twineedle. Despite looking awesome, I just never bothered to use one. On top of all that. Pinsir is a Blue exclusive. I never played Blue that much.
#3 Dragonite
Where to begin? It has the shallowest of shallow movepools. It's only STAB move has a set damage of 40. It doesn't even learn Hyper Beam until level 60. It's just meh. Not to mention, getting Dragonite is a hassle. Dratini can be found in the safari zone. I believe it can be bought at the game corner, but I never really bothered with it. Now, Dragonite is one of my favorite Pokes from Kanto (As I love the design). I even voted for it in my Top 5 Pokemons that should be added to Pokken. Outrage would be added in Gen 2 along with a few few other moves. So that's good and all.
#2 Horsea
I love Horsea. Unofficially she is my 2nd favorite Pokemon in Gen 1. Sadly for her, my favorite is Squirtle. I just never needed a second water type. Honestly, I'd probably be more inclined to pick Staryu anyway for obvious reasons. But I loved Misty's Horsea in the anime. She is very precious. I do not know if I'll ever use her in Kanto. Seadra's best move is Hydro Pump. A powerful move with just 80 accuracy. Now, being a water Pokemon it does have access to Surf. TMs give it the availability of Skull Bash, Blizzard, and Hyper Beam.  I do not know if Ill ever use Horsea as I use Squirtle in almost every Gen 1 adventure. And yet again, Staryu would still exist. But hey, maybe for fun one day.
Honorable Mention- Any of the trade evolutions (Machamp, Alakazam, Gengar, Golem), Weezing/Arbok, Fossil Pokemon (Omastar, Kabutops, Aerodactyle)
#1 Kangaskhan
This spot could go to most Normal Pokemon (Snorlax, Chansey, Clefable) and any safari Pokemon (Tauros, Chansey, Etc). It was hard to narrow down, but I ultimately settled on Kangaskhan. Her design is really fierce and the joey is sweet and would go on to be a big part of her Mega Evolution. Her movepool is amazing as she learns bite, Mega Punch and Dizzy Punch. Tms open her up to moves like Body Slam, Double Edge, Take Down, Mega Kick, Submission, Earthquake, and Rock Slide. She even learns Thunder and Blizzard but her special is not anything to write home about. I dont really remember if the anime highlighted her or not as it seemed to spotlight Tauros more but I could be wrong. Factor that into her being deep in the Pokemon Safari and that was all just too much for a young Pokemon Trainer to grapple with.
I'm going to end it here, but I hope you guys enjoyed it. I will try to bring top 5 back, but we will see how I do I suppose.
Please consider following my blog. I also have a twitter and a Youtube channel (all under the name Dahubbz) if you are interested in more content.
Thank you for Reading! Have a great Day!