Category Archives:
Super Mario
Hey guys, since this is part 2 of this series, I decided Ill skip the opening. If you missed part one, check it out here: Ranking Super Mario 64 Levels (Top Five Friday) Part 1
Alright. Let's jump into it.
#10 Tiny Huge Island
Tiny Huge Island will get all its points for sheer creativity. The double entrance changes Mario size. If Mario runs towards the towering picture, he will be tiny entering the level (is the island huge?). Conversely, if he enters the picture where he is large, the island is tiny. Mario (or the island's) size changes some dynamics. Some stars can only be obtained depending on if Mario is huge or tiny. However, I just do not enjoy this level. This is kind of surprising considering I love beach levels. Still, this is fun-ish level to run around and is far from terrible.
#9 Lethal Lava Land
Since making a Youtube channel, I have replayed SM64 about 5 or more times. Lethal Lava Land is one of the levels that has benefitted the most in all those replays. I can speed run this level pretty quickly. However, this level shows some of the strengths and weaknesses of the game. For starters, two of the stars are just rehasings. You fight the bullies twice for 2 separate stars. The 8 red coins, while cool, is very simple. The 100 coins are not too hard but they can be unforgiven. Overall, I like it but it falls short of greatness.
#8 Cool, Cool Mountain
Cool, Cool Mountain was probably the first level that blow me away. Perhaps as a six year old every level blew my mind. However, the structure of this level was ginormous. This level helped birth my fascination for slide levels in video games. As a kid, escorting the baby penguin was such a tall task. Now, I love grabbing the baby penguin and saying "Hold on, bucko. Here we go!" and jump off the side of the mountain. The 8 red coins felt like a legitimate scavenger  hunt. It hurts to rank this level so low, but seriously, the levels above it are soo good.
#7 Hazy Maze Cave
Or as I call it Hazy Mazy Cavey. Ugh, I do not enjoy this level, honestly. But the scope of this level is great. It is not over enjoyable but it is diverse. You have the switch pad sections, which are not fun but they are a cool concept. You have the actual maze, which also is not fun but is a cool concept. You have the underground lake part which actually is not very fun either but is a cool concept. You have the metal cap switch level which I guess isn't that much fun either but it is a cool concept. Oh, yeah than there's the rolling rock part which, now that I think about it, isn't that much fun either but it is a cool concept. What can I say? I'm mostly joking, but I am serious at the same time. This level is made up of very cool and different sections that are not great on their own, but make for a very interesting level. I mean, Cool, Cool Mountain is certainly more fun than Hazy Maze Cave but there's two snow levels, like 10 water levels, at least 2 fire levels. I say all that to say Hazy Maze Cave stands out as a unique level with unique ideas. That is why it scores higher despite probably being the least fun level up this high on the list.
#6 Whomp's Fortress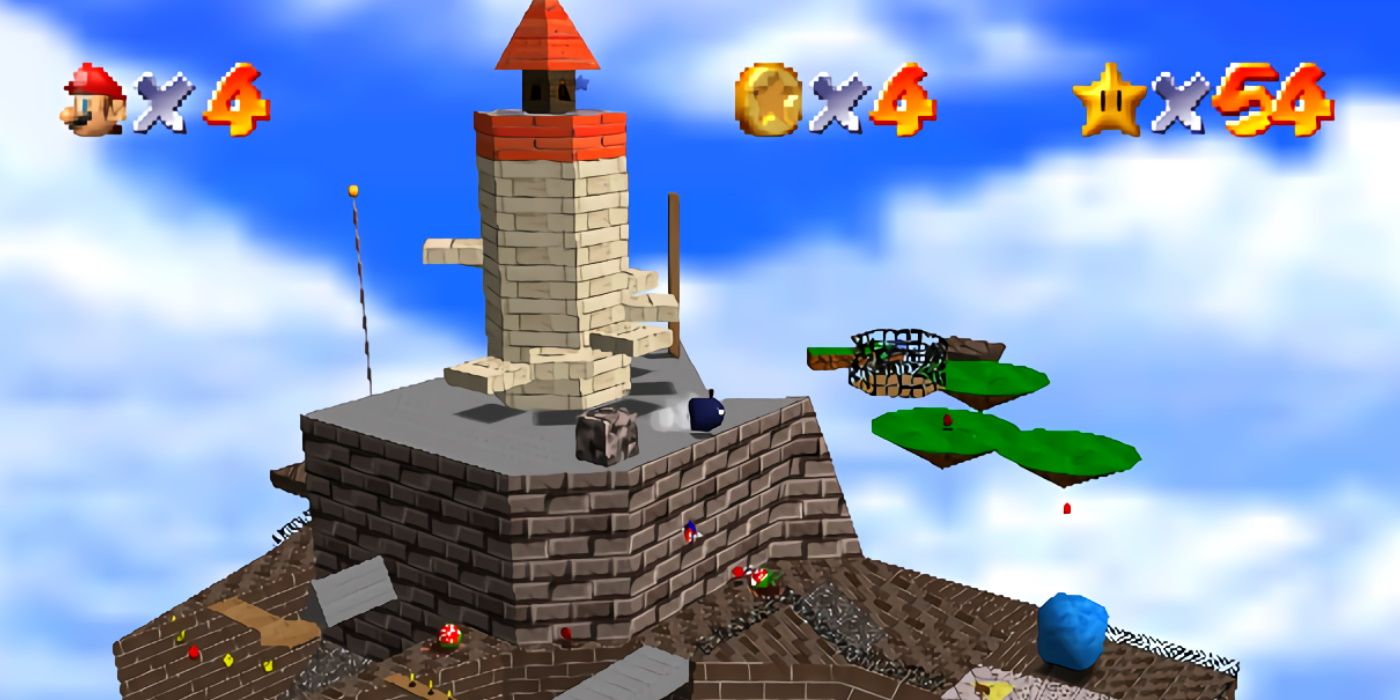 Seriously, from this point on every level is "Man, it kills me to rank this level so low." Whomp's Fortress is an absolute joy to explore but it is really simple compared to the rest of the levels left on the list. The first level involves an epic ascent up Whomp's Fortress to battle with Whomp himself. What is really cool about this level is everything past the first star. Whomp's battle ring has been replaced by an even taller tower which changes the dynamic of how to climb the fortress. It even gives access to a new section made of floating platforms that allow you to complete the red coin mission. You also can now more reliably get inside the cage for it's star. All in all, it is a small level, which hurts it sadly, but is still a bright and fun explorable level.
Okay, that is levels 10-6 and makes up the second part of my list. What will emerge as the top level? I'd love to say find out in the next installment. However, we will be ranking the side levels next. So be sure to follow for more Mario 64 content!
Thanks for reading. Have a great day!
Just a Note: I wrote this on September 3rd following the Nintendo Direct. I believe that was a Thursday and I had school. Well, I already wrote it, so here it is! Enjoy!
Hey everybody. The rumors were real! Super Mario 35th Anniversary direct dropped today. With it Nintendo revealed Super Mario Bros Game and Watch, Super Mario 3D World Plus with additional DLC, Super Mario Bros 35th Battle Royal, Super Mario Kart Live Circuit, The original Super Mario Brothers All Star from the SNES now included in the Online service, 35th Anniversary Merchandise, and finally Super Mario 3D All Stars.
At the end of the day, there's not a lot to complain about here. For the die hard consumer, this was underwhelming being straight ports of the 3 Super Mario 3D games in the All Star Collection. For the average consumer though, this was a grand slam. So much of this calls outs to fans of all ages. All the Game and Watch/Super Mario Bros. content will be a delight to the older players. The 3D Collection will attract players like myself who grew up in the 90's/00's. While Mario 3D World and all the new merchandise not only will appeal to Switch owners young and old, it will also stand out to Nintendo fans at large.
By all accounts, I think the only people who will complain are going to be the die hard fans who wanted a bit more out of the collection. We only have ourselves to blame for getting our expectations so high. Maybe we should all be thankful were getting this experience in one complete package. Our maybe we should demand more out of $60 dollar rehashing. I mean 3D World got bonus content while the classics are simply getting ported.
Overall Grade: 9.5 out of 10. The average consumer will find a lot to like with the sheer amount of content coming to the Switch. The presentation was done near flawlessly. Even the small supplemental products seemed cool and interesting on their own. The pacing was pretty good. It kept us interested in what was being shown while still supplying a lot of information and new products. The 3D collection was an almost perfect showing. The montage felt like childhood. The only thing really missing was adding to or improving Super Mario 64.
I did a video covering this if you want to hear more of my thoughts on the matter!
Thanks for reading! Hope everybody has a great day!
Hey guys, The Nintendo Direct may have been a little lackluster if you wanted more Mario. However, on my Youtube channel, I took the time to make a want list for Super Mario 64 Remake. Below are 5 things I want added to the eventual Super Mario 64 Remake!
P.S. Dont have time to read or just prefer a video format? Here's the link to my video: Super Mario 64 Remake Want List!
#5 Better Mechanics and Controls: Come on. This is almost a no brainer. The only way this isn't implemented into the game is if we get a basic bare bones port. Anything above that should bring Super Mario 64 into the modern generation including an actually useful camera, tighter controls, and improved movement. Regardless of what artistic approach they take with the remake/port, better mechanics and controls is an absolute must.
#4 Better graphics- duh. Yet, there's a sliver of a chance the game doesn't get any graphical oomph. Honestly, I'm not the most technical savvy person so I'm  not going to rabble on and on about video outputting and other jargon, I'm just going to say, I hope this is an HD remastering and not just simple porting.
(I do not own this picture)
#3  2 Player Co-OP- Mario hacks have existed for a while now that have enabled a co-op mode, so in 2020, I don't think it's unreasonable to enable a co-op mode in a home console release of Super Mario 64. Something Nintendo has been pretty stingy about. Mario 64 and Sunshine have no co-op mode to speak of. Galaxy 1 and 2 have extremely lack luster co-op functions allowing the 2nd player to play a disembodied pointer grabbing star bits using the Wii remote. Odyssey features the best co-op to date if we aren't including 3D World. The 2nd player assumes the role of Cappy and can greatly help or hinder Mario on his quest for endless moons. As stated, people have pushed the boundaries of Super Mario 64 via rom hacks, meaning I'm sure Nintendo has the tools needed to do the same, but do they have the guts to utilize it?
(I do not own this picture)
#2 New Hat or Mario Powers- Mario Galaxy 1 and 2 gave us plenty of new power ups which would be cool to see here. I think an obvious power up to include would be the fire flower or ice flower. This could introduce new puzzles such as torches, water walking, enemies that can only be killed by fire, burning down bushes, etc. etc. I wouldn't mind Boo Mario or Bee Mario but the cap power probably would make it redundant. Giant Mario could be another viable option. Giant Mario has been a staple of Mario since the very beginning, however, on the DS Mario was made ginormous. Wario even got in on the giant action in Mario 64 DS.
(Duh)
#1 New Stars in each level – Blame Odyssey if you must, blame not wanting a standard port or even blame the DS remake, but its time to start adding new content to the game. Super Mario DS added 30 new stars (I think). Odyssey allows the player to nearly double the number of moons found in each kingdom. I think implementing some system like this would be genius. These additional stars could be sprinkled in the game after beating Bowser. This way old school players can still enjoy the game the way God intended while players like myself who want a little more oomph in their remakes can get that added content. This could be done by adding some remixes of old stars such creating 5 new secret spots, making the Koopa race harder or a different route altogether, modifying existing stars in the same manner that comets did in Galaxy. The Mario team is normally pretty darn creative so I know if they tried they could come up with something good that also fits Mario 64.
So there you have it. I have a few more items on this want list. If I can come up with five more, I'll make a follow up to this post. If you want to see what those items are now though, you can check the video in the link above!
Thanks again for reading guys! If you are excited for the remakes, leave a comment down below and let me know what you would add.
Continued Reading:
Somali and the Forest Spirit Episode 1 Review!
Manga Monday: Clay Lord Master of Golems
The Mandalorian Review
Girlish Number- Random Wednesday Number 1