Ranking Super Mario 64 Levels (Top Five Friday[Saturday]) Part 2
Hey guys, since this is part 2 of this series, I decided Ill skip the opening. If you missed part one, check it out here: Ranking Super Mario 64 Levels (Top Five Friday) Part 1
Alright. Let's jump into it.
#10 Tiny Huge Island
Tiny Huge Island will get all its points for sheer creativity. The double entrance changes Mario size. If Mario runs towards the towering picture, he will be tiny entering the level (is the island huge?). Conversely, if he enters the picture where he is large, the island is tiny. Mario (or the island's) size changes some dynamics. Some stars can only be obtained depending on if Mario is huge or tiny. However, I just do not enjoy this level. This is kind of surprising considering I love beach levels. Still, this is fun-ish level to run around and is far from terrible.
#9 Lethal Lava Land
Since making a Youtube channel, I have replayed SM64 about 5 or more times. Lethal Lava Land is one of the levels that has benefitted the most in all those replays. I can speed run this level pretty quickly. However, this level shows some of the strengths and weaknesses of the game. For starters, two of the stars are just rehasings. You fight the bullies twice for 2 separate stars. The 8 red coins, while cool, is very simple. The 100 coins are not too hard but they can be unforgiven. Overall, I like it but it falls short of greatness.
#8 Cool, Cool Mountain
Cool, Cool Mountain was probably the first level that blow me away. Perhaps as a six year old every level blew my mind. However, the structure of this level was ginormous. This level helped birth my fascination for slide levels in video games. As a kid, escorting the baby penguin was such a tall task. Now, I love grabbing the baby penguin and saying "Hold on, bucko. Here we go!" and jump off the side of the mountain. The 8 red coins felt like a legitimate scavenger  hunt. It hurts to rank this level so low, but seriously, the levels above it are soo good.
#7 Hazy Maze Cave
Or as I call it Hazy Mazy Cavey. Ugh, I do not enjoy this level, honestly. But the scope of this level is great. It is not over enjoyable but it is diverse. You have the switch pad sections, which are not fun but they are a cool concept. You have the actual maze, which also is not fun but is a cool concept. You have the underground lake part which actually is not very fun either but is a cool concept. You have the metal cap switch level which I guess isn't that much fun either but it is a cool concept. Oh, yeah than there's the rolling rock part which, now that I think about it, isn't that much fun either but it is a cool concept. What can I say? I'm mostly joking, but I am serious at the same time. This level is made up of very cool and different sections that are not great on their own, but make for a very interesting level. I mean, Cool, Cool Mountain is certainly more fun than Hazy Maze Cave but there's two snow levels, like 10 water levels, at least 2 fire levels. I say all that to say Hazy Maze Cave stands out as a unique level with unique ideas. That is why it scores higher despite probably being the least fun level up this high on the list.
#6 Whomp's Fortress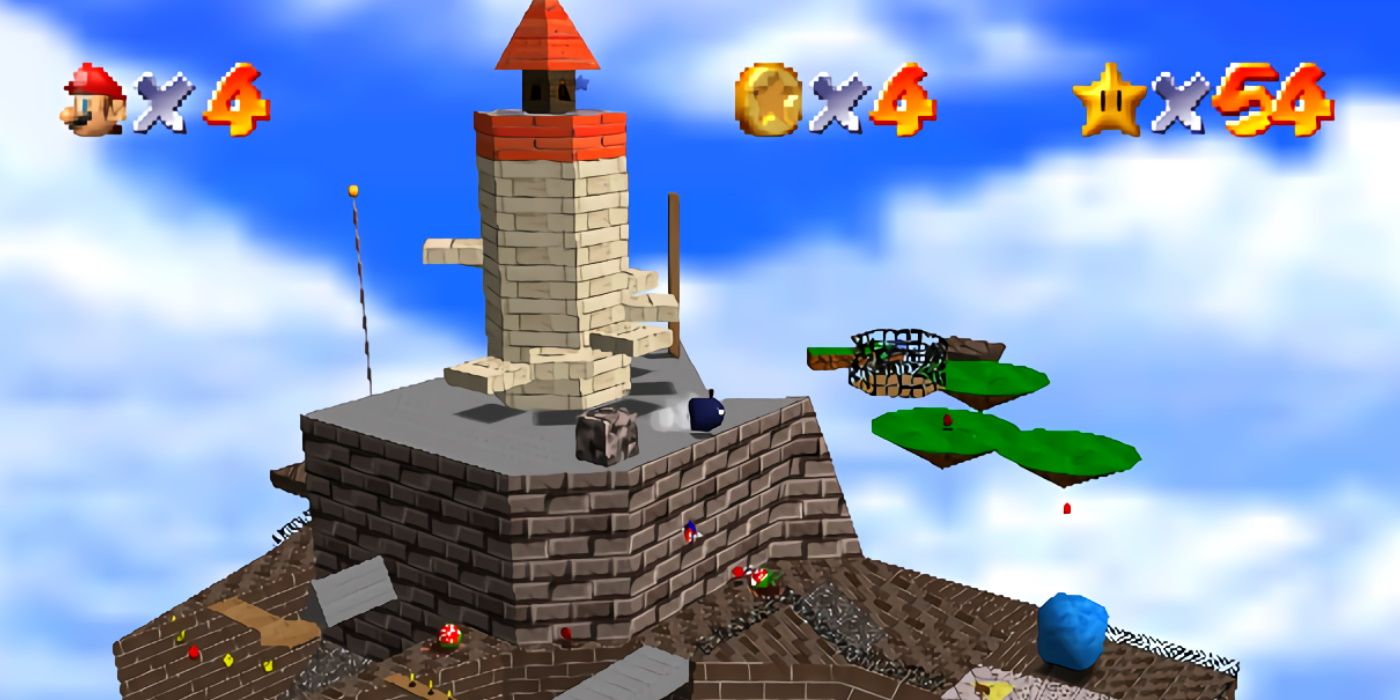 Seriously, from this point on every level is "Man, it kills me to rank this level so low." Whomp's Fortress is an absolute joy to explore but it is really simple compared to the rest of the levels left on the list. The first level involves an epic ascent up Whomp's Fortress to battle with Whomp himself. What is really cool about this level is everything past the first star. Whomp's battle ring has been replaced by an even taller tower which changes the dynamic of how to climb the fortress. It even gives access to a new section made of floating platforms that allow you to complete the red coin mission. You also can now more reliably get inside the cage for it's star. All in all, it is a small level, which hurts it sadly, but is still a bright and fun explorable level.
Okay, that is levels 10-6 and makes up the second part of my list. What will emerge as the top level? I'd love to say find out in the next installment. However, we will be ranking the side levels next. So be sure to follow for more Mario 64 content!
Thanks for reading. Have a great day!
Posted on October 17, 2020, in 2020, Super Mario, Top Five, Video Game, Youtuber and tagged All thing Mario, Mario, Super Mario 64, Super Mario 64 Levels, Top 5, Top 5 Fridays. Bookmark the permalink. 2 Comments.