Category Archives:
All things Mario!
Part 3 of ranking all the Mario 64 courses. This time we will be examining the secret stages. Check out the previous parts here:
Ranking Super Mario 64 Levels (Top Five Friday) Part 1
Ranking Super Mario 64 Levels (Top Five Friday[Saturday]) Part 2
This list was tough to construct. Most of the levels are tiny, upsetting, or forgettable. Oh well, here we go:
The Wing Cap Stage
Gah, this is easily the worst level in maybe the whole game. If you miss one of the early red coins in the sky it is basically over. In perspective, the structuring of the level highlights the Wing Cap. The problem? The Wing Cap is terrible. The imposed ceiling on the Wing Cap is obvious by design. I might could continue speaking on this course, but I think I will move on from here.
Bowser in the Fire Sea
This might be my favorite of the Bowser stages but I do feel it also the weakest (look, us bloggers don't have to make sense.) This is an awesome level to watch speed runners run through, but it's so hit or miss actually playing it. I actually like the level layout fair enough and the three sections of the level flow pretty smooth. In fact, if you tried to tell me this was the best level in the game. I would not even argue with you. The fact of the matter is I simply do not like fire levels a lot.
Winged Mario Over The Rainbow
Simply put, it is another flying level. A lot of these secret levels were designed to highlight some of the harder mechanics. This is put on display with the fact we have 2 Wing Cap secret stages… Ugh. However, this level also highlights why Wing Cap Stage is utter trash. Now, I said Wing Cap Stage is an introduction of the Wing Cap and why it is not great in this game in particular. Over the Rainbow is so much more massive in design, scale, skill, and every other measurable metric that how can you not look back at Wing Cap Stage and see anything but simply a bad level.
Bowser in the Sky
Boy, I want to really like this level. I do enjoy watching people show off all the crazy shortcuts and skips in this stage. The scale is simply massive. But, I just do not enjoy the dark and unforgiving nature of this level. Now, I can not like a stage but still respect it. I sure do respect the heck out of this stage. I can fully appreciate this level without wanting to play it again. Very cool level.
Vanish Cap Stage
I really wanted to squeeze this level in higher, and maybe I could have. Still, when it got to crunch time the turning platforms at the end caused the lower scoring. Remove that ending and this might have got number 2.
Metal Cap Stage
I enjoy a lot about this course. I have been debating on if the small scale nature of the level helped it or hurt it. I guess since it cracks this high on the list, it did not hurt it that bad. I feel like I always connected with the Metal Cap simply because it is green and my favorite color is green. Maybe that is not fair. But that is how it is. Still, the compact nature of this stage helps its design. The red coins are a fun hunt in this stage. If there was a weak point, it would have to be how unforgiving the water mechanic is with new players or even an easy mistake from veterans. If you get lost in the current and end up in the moat, it is a hard time getting back.
Bowser in the Dark Sea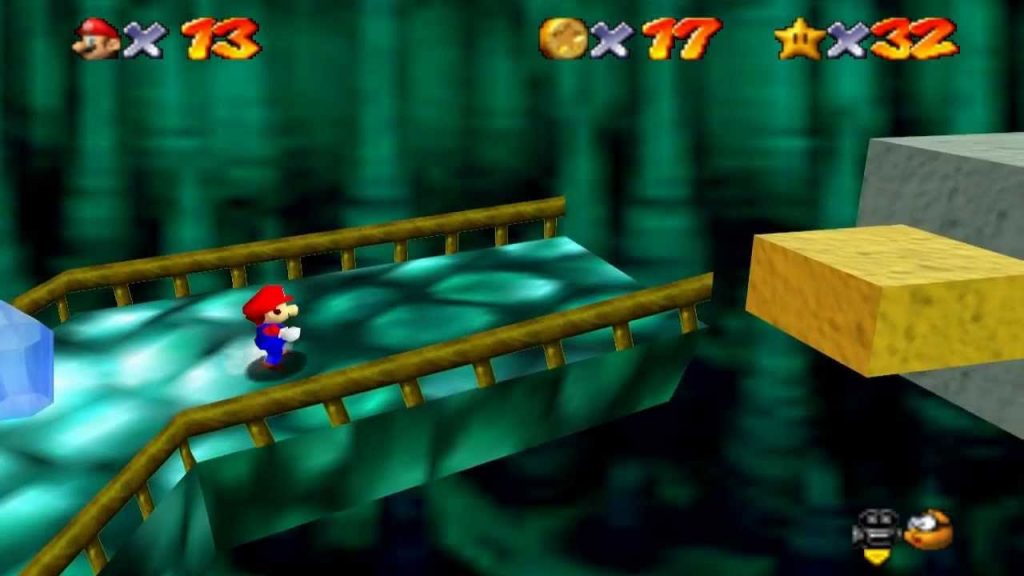 In a lot of these entries, you will read me say "I really liked this stage. I want to rank it higher.". Not this time. I actually don't think I like this course very much. In fact, I think I normally get as many stars as you can (which I think comes out to around 32 or so stars?) before tackling this course. However, there is no denying how iconic this course is to me, personally. Making the ascent up the "Dark Sea, was it?" collecting all the red coins, vanquishing the foes, dodging the fire and avoiding all the insta-deaths, was so nerve wracking. I cannot tell you how many times I get to 7 coins and bump my head or miss the jump and you fall right down to your death. Still no denying how much this level gave me nightmares as a kid.
The Secret Aquarium
What a level, right? Yes, this is easily the most simple level in the whole game. But I cannot deny the atmosphere here. The windows revealing a whole new world outside their glass, the fishes swimming in the water, the calming music. Quite frankly, for as simple as this level is, it is darn near perfect. I do not have a lot to say about this level. It is just bliss.
The Princess's Secret Slide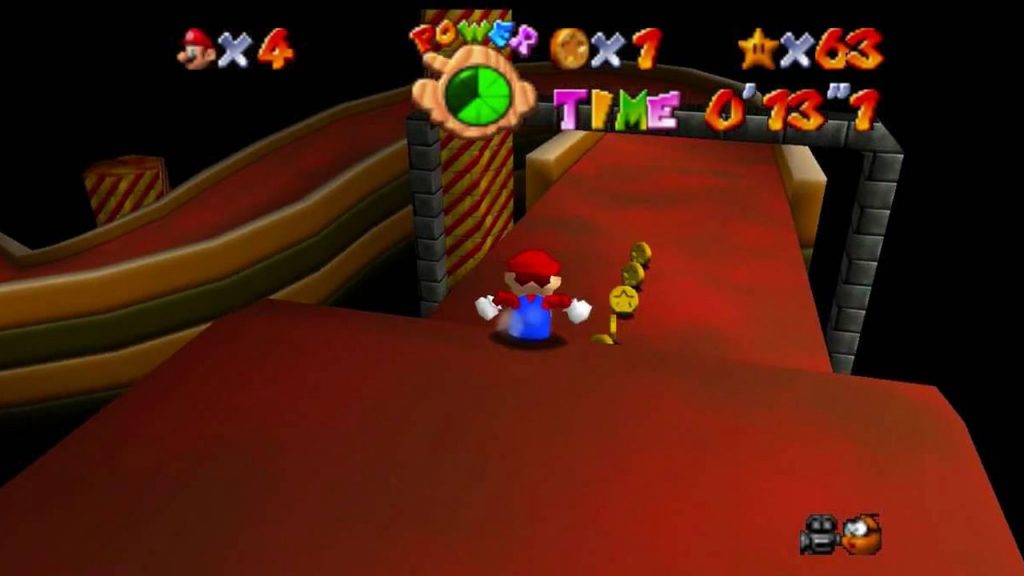 This is it, boys. This is sliding perfection. Someone answer me this. Was there a slide in a 3D video game prior to this? If so, tell me below. I am not sure why I am so fascinated with sliding levels, but dang it I am. I think it had to do with the mysticism of the timed star. Racing the clock, cutting off precious seconds where we could, riding the edges trying not to fall but go as fast as you could, just trying to beat that time limit. Than, once we discovered the jumping off the side shortcut, this level became an obsession. Since this, I have secretly (or maybe not so secretly at this point) judged every game I play on if it has a slide level or not.
Alright guys, there you have it. That's my rankings. You probably wont agree. That is okay. Sound down below how you would rank these levels.
Next week is Spooky Week here on Dahubbz. So, start getting ready for all things spoky. I say this now so you guys have a heads up. Also, so you know we will not be concluding this series next Friday. Instead, we are kicking around the idea of "Top Five Creepiest Pokemons". Hope that sounds cool to everyone.
As always, thanks for reading. Have a great day!
Super Mario 64 was one my favorite games as a kid. Now, I still love the game even if it's super dated (evidenced by the fact two of my last LPs were versions of Super Mario 64 [Green Comet 64 and Odyssey 64]). The graphics are ancient and the movement is either buttery smooth or miserably debilitating. However, the courses in the game are so iconic almost every square inch of that game is ingrained in my memories, burned into my eyelids, and replicated in my dreams. In other words, I like the levels. Some are annoying, some the design doesn't really make sense. However, most are charming and memorable in their own way.
Now there's 15 courses so we're going to break it down into 3 top five posts. Today's post will cover entries 15-11 and will move on from there. So, lets get on with the list.
15. Dire, Dire Docks
This course scores last place not due to difficulty or being cheap as much as being boring. The stars are either super quick or super tedious. The 8 red coins may be one of the worst missions in the game. The sting ray mission is cool but makes no sense. The level does make use of two hats in at least a neat way. The atmosphere here is still solid. This means that even if this is the worst level in the game, it is still far from terrible.
14. Jolly Roger Bay
To be fair, I think the drop off from Dire, Dire Docks to the next worst level is so extreme I am not sure officially what the 2nd worst level even is. Jolly Roger Bay simply scores this low because the exploration just isn't that great. The level is mostly underwater. This level is cool yet still relatively boring. I definitely do not hate it. It is a very chill level, but aside from being peaceful I cannot think of too many reasons to go exploring it. I eels are some of the worst things in this game.
13 Wet-Dry World
Let's just finish off the water levels. This level certainly steps up the exploration but is still pretty annoying to traverse. The missions in this level are all pretty solid (though I know some will mention the secret stars. I don't hate those.). However, it seems they fall into the "fun in theory, not so great in execution". The level feels huge while also being pretty empty. The gimmick revolves around adjusting the water (everyone's favorite mechanic from everyone's favorite Legend of Zelda dungeon.). In other words, they compromise a lot of this level just to force the water mechanic. It can be seen as a nice change of pace, but means it scores pretty low. Also, the hidden town just leaves so much to be desired I just wish it didn't exist. There's no notable NPCs, no interior houses, nothing. Just more water adjusting and red coin collecting. It could have been something cool, but instead its just useless potential.
12 Snowman's Land
Anyone who knows me knows this might be a top 3 level for me personally, but I have to admit that could be personal bias. The level is relatively squared off and the exploration is very limited. You are mostly climbing a snowman. There's some cool elements to mention like an awesome cannon that cannot kill you and a koopa shell to cruise around the level. I love this level but I have to score it lower. Sorry, Snowman's Land.
For the record, this is where the list has gotten really hard to narrow down.
11 Rainbow Ride
There's no way this would normally score 11 if I wasn't overthinking every little thing but here we are. It is by far one of the best levels to explore. However, the theme, outside of the carpet ride, is just random. I cannot tell if I love that aspect or hate it. No mission even makes sense. From the shifting triangles to the floating house. Seriously, do any of these have a rhyme or reason? As a kid I hated falling levels, so naturally I was scared of this level. In my teenage years I didn't like the randomness of this level. As a Lets Player I hate the unforgivable nature of this course. For one reason or another, I've always had something to complain about. Regardless, this course is awesome for being so unique. I definitely do not hate it. It is probably just the most frustrating level left to talk about.
Well, that'll do it for this list so far. It is very hard to rank levels past the worst two. Each level has something charming or redeeming. Despite not being the biggest fan of Rainbow Road, I can definitely appreciate its brilliant randomness and insanity. So, if you'll excuse me, I'm going to spend the next week torturing myself about the next wave.
Thank you guys so much for reading this. Feel free to rank the levels down below or leave suggestions for future top 5s!
Have a great day.