Category Archives:
Anime Review
Somali and the Forest Spirit is a brand new anime based off the manga of the same name. It is available on Crunchyroll.
.
(I do not own the rights to any pictures used in this blog. All rights reserved to their respective owner)
Spoilers: None really as this is the first episode.
Plot: Set in an alternative reality where humans are nearly instinct, the story picks up by introducing the forest spirit, Golem. While venturing in his forest, he stumbles across a human girl, Somali. Title sequence, fast forward, bam, the two have now formed a duo. Not much more information is given beyond that. However, Golem does reveal later on that they are on a quest for more humans. This quest is a little strange. For starters, a side characters comments something to the effect of, "I didnt think you spirits left your forest.". Couple that with the fact Golem is void of emotions and always tries to think logically, it appears to be an uncharacteristic behavior. I wanted to set up the plot but I want to dive more into this during our "character" portion.
Characters: Lets focus on the primary two. We will start with Somali. Her name is listed first, but from the first episode I don't see her has the main character, that would be Golem in my opinion so far. She is one of the last remaining humans. Golem finds her shackled in the woods for some reason. In the city they visit, characters made mention of keeping humans as pets, but the show never tells us why she is in the woods. Despite not knowing her parents and being held against her will, Somali is a very fun loving and free kind of person. She is often distracted by the pets, which by the way, animals are now humanoid and are the main inhabitants of the world. This offbeat, carelessness gets her in trouble. By the end of the episode, I cannot really say she's undergone any form of change. She even utters the say line from one of the early scenes.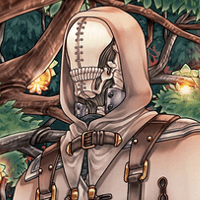 Golem, on the other hand, is very straightforward, logical, and systematic. Every move is very well thought out and often correct. There's a lot to break down and love about his character. From the early scenes of the show, he is lead on to be a machine, basically. He is void of emotion. He is stubborn. He is unwavering in his decisions. I say all of this, and yet, he undergoes so much change in the first episode. I'm actually really impressed. For starters, Golem is untrusting of the species living in the village. He fears they want Somali (he is probably right, too). He clamps his hand over her mouth and tells her not to be loud as he listens to people walk by their room. Him having no emotions is brought back up and Somali says something along the lines of, "I could feel you shaking. You can't fool me.". I dont remember the exact quote but it basically was saying that when he thought Somali might be in danger, it caused him to have feelings.
Secondly, while walking around the market district, Golem noticed all the parents holding onto their kids. I really liked this scene. Initially, the scene looks like it is being experienced through Somali's eyes. This made me feel sad for Somali on account of her not having parents. By the end of it, you realize Golem was actually paying attention to how the parents interacted with their kids. All this leads up to is them holding hands (um, fingers?), but it will be more powerful once you actually watch the episode. \
The World: Oh, boy. Considering I think the aspect of humans being nearly exist is kinda over done, this show reinvigorated the genre for me. The forest scenery is beautiful. The animals of the world are brand new species as it appears as if cross breeding has occurred. You'll have cats with 5 tails, rabbits with antlers, a butterfly on two legs. Every character is a new species and that makes it fun getting introduced to new characters. So far, we've only seen one forest and one city.
Recap: 2020 anime is getting started on a good foot. This is a great anime to start your year off.
Action: So far, sparingly. Though, as they get deeper into their hunt for humans, I wouldn't be surprised if action came up from time to time.
Romance: Our main characters are a forest spirit with no emotions and a child. In other words,

Plot: Didn't overly care for it before. Now I am very interested in seeing where it goes.
Characters: For two characters that seem shallow up front, I think they are very good characters that will have surprising depth by the end.
The World: Cannot wait to see other places there are to explore.
The Humor: This show is about personal relationships and the journeys we take together, but it can be funny.
The Ending: Maybe one of the best endings to an episode one I've ever seen. It does more than make we say "I cannot wait for episode two.". It also shows growth in our main character right from the start and makes this story that much more enjoyable.
Verdict: Obviously we cannot grade the entire season on one episode, but this is about a promising start as there is. I will be tuning in weekly to see this one develop.
Score: 9.75 out of 10. Remember I'm grading this based off of episode one. I'm not saying the season will remain this strong. I'm just saying that as an introduction, you'd be hard pressed to find one that does it better.
Let me know what guys thought of this one down below.
Thanks so much for reading and have a great day!
Continued reading down below!
Dr. Stone Episode One Review!
The Mandalorian Review
Games that COULD come to the Nintendo Switch this year! (2020)
Girlish Number- Random Wednesday Number 1
After a pretty long haitus from anime reviews, Crunchyroll and Facebook have teamed up to pull me right back in. Dr. Stone is an ongoing anime based on the manga of the same name. The anime is done by the studio TMS and airs on both Crunchyroll and Funimation.
(I do not own the rights to any pictures used in this blog. All rights reserved to their respective owner)
Spoilers: This is a review of episode one. While there may be spoilers for episode 1, there's no major spoilers for the series as a whole.
Plot: The idea here is that everyone on Earth gets turned to stone. Some 3,000 years later our two main characters breakthrough their stony exterior emerging to a world where forestry has now overrun the area. Thousands have died as their stone bodies have shattered or limbs have been severed off. Once our two main characters, Senku and Taiju reunite at the base of a river, the two go to work on how to bring the world back to the modern era.
Characters: This section is fairly easy, as they are the only two human beings alive at the moment. Senku is our green headed main character. He is a genius and the show makes that no secret. He has already begun working on a cure for the modern day stone age. I really think people who study psychology and character types would have a field day enjoying him. It's not really revealed in the first episode, but later you will see he does not play judge, jury, or the hangman. He acts almost like neutral watcher. He wants to revive everyone. Good, bad, murderers, tax collectors, children, bums, it does not matter. I assume this is due to the fact that science really does not take sides. He's just letting the process run it's course.
Our next character is Taiju. Taiju is a bit more of a flat and uninteresting character. Now, that is in no way to say he a bad character. He kept himself motivated to live because he had a mission. Before the stone age struck, He was determined to tell his crush Yuzuriha, that he liked her. Of course, tragedy struck as both stone-crossed lovers were soon to be sealed in their rocky casing. But hey, his unwavering desire to confess his feelings for Yuzuriha worked because, well… It is an anime after all.
Now, I'm not sure if this a good or bad thing, but the show is super self-aware of the two character's strength and weakness. Again the show is not shy about constantly reminding you Senku is an intellectual supreme while Taiju wouldn't know the difference between a push or pull door even if they were labeled. As a result the show has a stereotypical, albeit funny, role system for the two. Senku comes up with ideas while Taiju goes to hunt down the ingredients needed. The two play off each other's differences in a way that naturally progresses the plot while also being funny and enjoyable such as the grapes to wine scene for example.
The World: This is also easy. There essentially is no world to discuss here. Mother Nature has come to reclaim most of her land. Some statues have survived the test of nature and time, but they are few and far between. Animals, for some unknown reason, were spared the same crystallized fate the humans experienced, birds notwithstanding for some reason. This is part of the fun though. How will Senku and Taiju interact with animals? Will they find remains of old buildings they use to interact with? Are there others who have shattered their mold and now walk with the living again? How will the world react to a sudden rise in the human population again? Ultimately, the world right now is a blank canvas and I cannot wait to see how Dr. Stone splatters itself all over the page.
Racap: I knew this was the anime I wanted use to rekindle my spark. This premise sounded super enjoyable and I have not been disappointed. I've watched the first three episodes as of now and it really keeps getting better.
Action: While nonexistent in this episode. Episodes two and three do help deliver more of a punch.
Romance: Taiju clearly has a crush on Yuzuriha but you will have to keep watching to see if they end up together.
Plot: I came for the plot.
Characters: But I stayed for the characters.
The World: Empty and underdeveloped, but that isn't exactly a bad thing.
Humor: A definite strength and high point of the show is the humor. For a pseudo-apocalyptic world, these two really don't let that fact stop them from smiling or cutting up.
The Ending: The ending is great as we see they have possibly cracked the code for cracking open that hard outer shell.
Verdict: While this is episode one of a show that currently only has four episodes out, I'd be lying if I didn't say the hype is there. It is going to be so fun to see what's left of the world. If Senku and Taiju have shed their rock skin, whose to say other's could not? How will differing viewpoints of Senku and people he resurrects clash? The world is currently empty which hurts this episode's score but I think makes me more excited for the show as a whole.
Score: A solid 8.5 out of 10. Mostly, because there are still so many question marks that is hard to get a perfect score.
I will revisit this one once the season has wrapped up. So let me know what you guys think so far. What animes should I review next? Let me know down below.
Thanks so much for reading and have a great day!
Continued reading here!
ReLife Review
Food Wars Season One Review
My Hero Academia Review
I really wanted to get this up yesterday but school work was too taxing. I dont want to have to wait til next week, so I'm doing it today!
I read ReLife by So Yayoi and published by Earth Star Entertainment.
Right off the bat, I really enjoyed this and I'm happy to be reviewing it so be sure to check it out afterwards.
Okay here we go!
Spoilers- Meh. They hint at some future stuff we will discuss but nothing major.
Plot- So I checked this manga out because it seemed like a change of pace. I had just done One Punch Man(Check out my review here!) and I wanted something a little more deeper than OPM. Arata is a 27 year old loser. He does not have a job, his family has little faith in him, and he's fallen out of the loop with friends. Honestly, this is pretty much how I felt a few weeks ago, so it was very easy to put myself in his shoes. Anyway, he is selected for the ReLife program. This program leaves him 27 but gives him the appearance of a 17 year old. I thought this program was going to put him in another body or something extreme, but alas it gives him a second chance at high school. Why is this important? Arata cannot find a job, and ReLife offers to help him once his one year trial is complete. This is his story in the life of a high school body once again.
Characters- Oh boy! Normally I can only talk about one or two characters, but there's actually a few characters in here that we get a decent understanding of who they are.
Arata- For starters, our main character. He was denied another job and now his family is no longer going to support him. He tries really hard not to connect with any of the high school students, but due to his overwhelming compassion for others and his inability to stay low-key, he ends up having several interaction with the students. He is not very good at this being younger and adjusting to school. One of the many things he fails to recall is that he can't smoke. Not only is he now technically 17, he's also on school grounds. It's quite humorous how the students and teachers interact with his hmm, "forgetfulness".

Ryo- One of the funniest character's to a manga I've ever read. He is the ReLife agent who offered Arata the pills to change him. He is also Arata's overseer. He takes the pills with him. Ryo knows how to get inside of Arata's head and push his buttons. He is always making jokes about how dumb Arata is, or joking about Arata falling in love with the students, and is just always making Arata feel embarrassed. This interaction between the two main character's really makes this a special manga to me. Ryo genuinely is interested in Arata as a person and is truly captivated by Arata's interaction with his classmates. This makes the dialogue exchange between the two so honest and so welcomed. Not to mention, it's absolutely hilarious.
Hishiro- Hishiro is the silent type. Noted as not smiling too much or ever having friends, she normally keeps to herself. She has been class president every year beforehand and looks to keep that title headed into this year. She takes a liking to Arata(or so it is lead on to believe). Which is a concept I debated on how I felt for a long time. Ryo heavily suggest Arata give her a chance. Arata's response is no because she is ten years younger than him, despite him looking like a 17 year old. Which i agree with Arata. He still has the mind of a 27 year old. But every since they begun "talking" Arata seems more happy and lively. There's a scene where they flirt over business emails(Yeah, email). Which ends in Arata laughing so hard. This scene is really well done, because it's two characters who do not fit in too well with their peers, but in this moment they are letting their walls done for each other.
Rena/Oga/And the rest of the bunch- She is another female student in Arata's grade. She is eyeing the class president spot but first must dethrone Hishiro. She finds Arata as a disturbance due to him getting busted with cigarettes and not having a pencil, but she does lend him one. Oga so far as come off as a funny smooth talker. I believe he's only had one scene, but I very much enjoyed his personality while he was there. Ms. Amatsu is here to make Arata look bad. She is a 25 year old who is already doing more with her life than Arata. She also busted him with the cigarettes and forces him to write an essay. The last character introduced was Honoka. I believe little has been revealed about her so far, but I'm sure we will see how she ties into the loop soon.
The World- This category does not so much matter with mangas like this. It's your every day earth much like ours.
Recap-
Action-None.
Romance- I do not think it's come right out and said anything. If I had to guess, Arata could hook up with Hishiro. Rena and Oga might be a thing. They appear to flirt a bit.
Plot- It feels like it's been done before(reminds me of Case Closed which is never a bad thing). But I like the spin of seeing him adjust to high school life
Characters- Such a lovely batch of characters.
The World- Bland. But it doesnt have to be anything more than what it is.
Humor- One of the funniest manga's I've ever read.
Verdict- Hilariously well done. It does not have action, which can be good. It does not rely on effects or being over the top like One Punch Man. The characters will have you in stitches. Easily one of the best manga's I've read.
Score- 9.5 out of 10. Yeah. I love this manga. I did not know it existed two days ago, but much like how I fell for Food Wars, I've fallen for ReLife. You should too! Volume One ended hinting at the last subject before Arata who did not do so well, Volume 1 and 2 are available free on Crunchyroll, Volume 5 is coming out next week, and there is an anime coming out next month! What are you waiting for! You have no reason not to give it a try!