Blog Archives
Jessica and I were staring at the endless sea of anime available on Crunchyroll. We struggled to really pick an anime. We wanted a comedy that also had action. We had been enjoying some of the more off beat anime like Girlish Number. We also figured with a name like The Misfits of Demon King Academy this was going to be a light hearted school yard comedy.
We were wrong.
As discussed, we went in expecting everything previously mentioned. Well the show was far from light hearted. There really wasn't too much in the way of school yard antics. And it really wasn't a slice of life anime. Instead it is mystical thrill ride filled with mythology, spells and plenty of combat. I like to think of it like the old school animes like Dragon Ball Z, Naruto, or Yu Yu Hakusho if you just jumped straight into the combat only.
Now that's not to say they're isnt time for character development, plot advancement or world building. Trust me, theres plenty of that too. It's just the show never makes you wait too long for another fight or cool magic tricks. In fact the world building is mostly being teased at the moment and it very enjoyable. We know there are plenty of types of spells: teleportation spells, revival spells, origin spells. There's plenty going on here. We know there are several elder families all vying for that role as the demon king. And we know there was an era of great magic in the past.
The first thing you notice is, that for an English Dub, the voice acting is great. Anos and Misha voice actors really killed it here. The side character's voice actors all really shine too. The world seems to be well crafted. However, since everything is in the teasing and infancy phase, I don't want to give it too much created yet. As someone who enjoyed the Jutsu system of Naruto , I really dug the magic system here. We've gone over some of the types of magic above. I'm sure there's plenty more styles and arts of magic just waiting to be discovered. The anime is also quality. The characters are a total blast and just compliment their magic using abilities.
Honestly, as I was watching this show, I could not find much wrong with it. Someone might could argue it is generic. I've never really been to hold that against an anime as long as it does the genre well. So, you wont se me dock too many points for existing in a crowded genre. However, the writing is truly a weak point for this anime. I don't even thing its that bad, but it is pretty noticeable. The voice acting and animation is so clean that when a cheesy line sneaks in, you really notice how weird it sounds. Ultimately, it does not hurt the anime too bad, but it does stop it from being a perfect.
Recap: What a perfect mix of anime tropes. Blistering combat and over the top magic spells, impeccable voice acting, a cool and developing world and hints of romance and shady and interesting characters.
Action: Combat in the form of magic vs magic. It is pretty awesome.
Romance: Romance has been mostly used for humor believe it or not.
Plot: The plot, again, can sound generic at times. A person must rise to the top to claim the title of Demon King. However, the real enjoyment comes from watching the characters interact more so than a deep and compelling story.
Characters: Like most animes in this sector, the characters are good. The villains are good for what they are. Not major threats but they give us a taste of the social hierarchy. Anos and Misha make for engaging main characters you want to find more about.
The World: As said, I don't want to give the world too much credit until we see become a bit more fleshed out.
Humor: When this anime isn't fast paced combat, sometimes it will slow down to be funny. The humor is really sweet and funny or ironic from bad lines. But you should be laughing one way or the other.
Verdict: Perfectly enjoyable for the first episode. I want to see more of where this anime goes. I like its foundation a lot. There's a lot lurking in the background. These things could make the animes score explode, but what if the writing and generic-ness of the genre hold it back in the end? A lot still hinges on the development of the world and characters.
Score: 8.5 out of 10. Check it out yourself. I had a lot of fun with this one and look forward to more episodes.
Thanks for reading! Have a great day!
Continued Reading Below!
Recapping All of Manga Mondays For 2020
Manga Monday: Psyren Volume #1 Last Manga Monday of the Year!
Games That Could Have Saved The Wii U!
Burn the Witch Episode #1 and #2 Review (Anime Review) – A Real Cool Anime
Tite Kubo is a household name as far as mangas go. He created Bleach, very long, previously ongoing series. Bleach ran for 74 volumes over the course of 15 years! He has since gone on to write Burn the Witch! If I sound excited, is it because we recently reviewed the anime- which I loved. Check out my review of Burn the Witch here. But, as the title suggest, this isn't about Bleach or Burn the Witch. This is about Tite Kubo's origin story, his debut, Zombie Powder!
Over the summer, I stumbled upon this manga in a 2nd and Charles. I did not recognize the name because I had never experienced Bleach and Burn the Witch had yet to release. Though, reading the back revealed the author's impressive history and a plot I wanted to dive into. Needless to say, at $3.50, I dove in. This is a book that kept on giving. 7 chapters and nearly 200 pages of sheer manga action. The second half of the book was a thrill ride much like the first half. However, the second half takes place exclusively in a bandit's compound. Meaning, with tight rooms, black and white art, and insane energy from sword fights, sometimes the plot and even the action was hard to follow. But that really was my only complaint. The writing is borderline juvenile but hey, he was 22 years old when he wrote this and I find the childish nature of these mangas charming. The characters are perfect for this style of book. They all can be very funny, very personal, easily enraged, and eager to fight. Throw all these characters together, the good guys and the bad guys, and you have a real recipe here. Factor in the fact the setting is a Western with over the top guns and kickbutt swords with fighting scenes that do not hold back, and this is a real page turner.
The story centers around two guys on a quest for the 12 Rings of the Dead which can either revive the dead or grant the living eternal life. Gamma Akutabi is the main character. He is motivated by the thought of immortality. Elwood on the other hand is on a mission to revive a dead family member. They are a very genuine duo and I think that's what I really appreciate about the manga. There's a lot subtly in the dialogue. Akutabki and Smith are talking about how they would never partner with someone who would get themselves killed so easily. Yes, Akutabki and Smith are addressing each other but they are saying this to Elwood, who is a young, goodhearted kid. This scene really makes it appear Akutabki appreciates and respects Elwood despite the age difference. I just really like how to two play off of each other.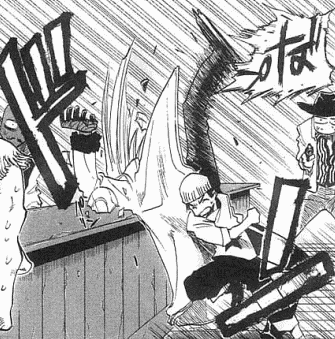 One complaint the manga developed over time was an uninspired plot an unoriginal character designed. Personally, neither of these bothered me at all. I can get gripes if you do not like this genre or maybe even getting burned out of the genre. However, if you really like this area of manga, this going to feel like home. In fact, part of the manga felt like those old school Dragon Ball adventures. The manga only ran for about a year so it should be easy to complete and read.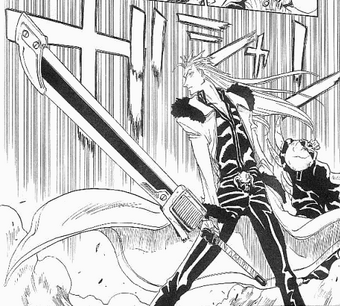 This manga is perfect for anyone who wants to relive the glory days of the early 90's into the 2000. Naruto and One Piece were beginning to make their ascension into the goliathes of manga while Kubo was starting to make a name for himself. Filled with likable characters, questionable jokes and more severed heads and disembodied bad guys than you can shake a chainsaw sword at, Zombie Powder proves to be a nonstop joyride from the first page to the end of the chapter.
I'll give it a very solid 7 out of 10. The criticism was all about how easily forgettable and lost in the shuffle this manga was. Now, while I enjoyed the first volume, no one ever talks about this series (I'm not sure how many even know it exist). Meaning, the critics, I guess, were right. However, I would love to find volume 2 for roughly the same price one day.
After a month break, it's time to finally get another review out. This time around we will be reviewing a new anime called I'm Standing on a Million Lives. Episode 1 and 2 are available on Crunchyroll.
The Plot: Not too much is known of the plot up to this point. At least 3 kids who all attend the same school, Yusuke Yotsuya, Iu Shindo and Kusue Hakozaki, are all teleported to a video game world. Admittedly, I have not watched to many shows from this genre of anime. However, one thing that makes it seem different, to me anyway, is the fact the characters can leave the video game world and than return back to said world at later points. Though, it does not appear they get to chose when to warp back between each world. Once a player arrives in the video game world, I am not sure if the world is named yet or not, they are greeted by a strange avatar that grants them their quest. A neat aspect to the team dynamic is the players can die as much as they want with no consequence. That is, as long as at least one party member is currently alive. If they all die before the other players can respond, they stay dead. It is not yet fully revealed if this means they die in the real world. The players seem to be acting as if they would though.
Characters:
Shindo: First up is Shindo. Technically not the main character, she is still the first of the 3 to arrive in the video game world. In the real world she is considered the total package. The guys find her attractive. She receives good grades. She's even athletic. In the video game world she assumes the role of a wizard blessed with the elemental powers of wind.
Hakozaki: Hakozaki is not a complete polar opposite of Shindo, even if she appears so on the surface. She is tasked with being the sword wielding warrior. However, she lacks the confidence to be the fearsome brute the group needs her to be. She has a lot to learn and room to grow before she becomes the hero of this story. I'm sure her character will undergo some growth as the series develops but the jury is still out on whether she can reach that status or not.
Yotsuya: Yotsuya is the main character. He is uninspired to say the least. He cannot envision a future for himself. Instead, he would just prefer to play video games. As you can imagine, getting transported to a virtual reality is almost a dream come true. He is told once he finishes his missions he can go home. I'm not convinced he even wants to return home to Tokyo. Yotsuya is not very likable as a character. Though he seems to be a quick thinker and group player. Despite owning the occupation of farmer (one of the weaker titles), he has already carried his weight up to this point.
The World: Animes like this are always fun for this section. The story is divided into 2 locations. The first one seems to be a plain Jane interpretation of Tokyo. The second one is a brand new mystical video game dimension. So far, it has mythical creatures like sea beast and trolls, magic, and good old fashion towns and villages. I'm not sure if anything is named yet. Every player is assigned a title and than a status bar full of typical RPG stats. The players can summon weapons (and I assume other elements as the show continues) at will. I'm under the impression that whenever a player arrives in the world they are greeted by the same avatar (or Game Master as he is referred) and tasked with building a team and completing quests.
Recap: Though I am not overly familiar with the genre, this seems like a perfectly fine jumping in point for fans or newcomers of the genre alike.
Action: Not over dependent on action up to this point. The first scene is pretty bloody all things considered which, to me, implies there could be plenty of blood and violence in future episodes.
Romance: Who knows? There's nothing overly hinting at romance at this point in time. I think Yotsuya at least has a crush on Shindo. Not confirmed explicitly though.
Plot: I don't have a definitive opinion on the plot. It is plenty fine enough to carry this kind of story and that is probably good enough.
Characters: Despite my earlier comments, the characters here are fine. They are not in the same class as many of the animes I have watched. However, they just formed a squad and most of them lack charisma but they have a certain charm. Not an elite cast by any means, but still enjoyable in their own right.
The World: The worlds in animes like this are so important. This world seems to have some nice tricks thanks to the digital nature of it. One example being the data logs scattered throughout the world. If the show keeps doing cool stuff with their design space, I will like this world a lot. As of now, it is fine.
Verdict: This show seems to be a pretty surface level anime packed with room for plenty of potential.
Score: I'm going to sound really harsh here. I was going to go 6 out of 10, but I think I'll just say 7 out of 10. Episode 1 did not blow me away like some Episode 1's I've seen. It did do enough to get me invested in some of the character's well being and motivate me to look forward to the coming episodes. This is a new anime. I may try to watch it weekly or so as they air and revisit it down the road here on the blog. Who knows?
Bonus Thoughts
I Mean You No Farm? I have to wonder if Yotsuya was only given the title farmer to make him weak at the start or maybe even just for comedic effect. Could this job have secret abilities or top notch skills he will discover in later episodes? Seems like a pretty big plot point to just do for a gag or to kneecap the main character at the start of the story.
Life is But a Stream. In the real world Yotsuya bumps into a table outside where a girl is streaming, inadvertently messing up her angle. She makes some comments that I cannot quite remember off the top of my head. I just wonder if this girl or streaming will come into play. The camera and the show itself took some time away from Yotsuya and the plot as a whole to show us this girl, though her face was not revealed if I recall right. She could be a throw away scene or important to the story.