Manga Monday: Zombie Powder Volume #1 A Pleasant Surprise!
Tite Kubo is a household name as far as mangas go. He created Bleach, very long, previously ongoing series. Bleach ran for 74 volumes over the course of 15 years! He has since gone on to write Burn the Witch! If I sound excited, is it because we recently reviewed the anime- which I loved. Check out my review of Burn the Witch here. But, as the title suggest, this isn't about Bleach or Burn the Witch. This is about Tite Kubo's origin story, his debut, Zombie Powder!
Over the summer, I stumbled upon this manga in a 2nd and Charles. I did not recognize the name because I had never experienced Bleach and Burn the Witch had yet to release. Though, reading the back revealed the author's impressive history and a plot I wanted to dive into. Needless to say, at $3.50, I dove in. This is a book that kept on giving. 7 chapters and nearly 200 pages of sheer manga action. The second half of the book was a thrill ride much like the first half. However, the second half takes place exclusively in a bandit's compound. Meaning, with tight rooms, black and white art, and insane energy from sword fights, sometimes the plot and even the action was hard to follow. But that really was my only complaint. The writing is borderline juvenile but hey, he was 22 years old when he wrote this and I find the childish nature of these mangas charming. The characters are perfect for this style of book. They all can be very funny, very personal, easily enraged, and eager to fight. Throw all these characters together, the good guys and the bad guys, and you have a real recipe here. Factor in the fact the setting is a Western with over the top guns and kickbutt swords with fighting scenes that do not hold back, and this is a real page turner.
The story centers around two guys on a quest for the 12 Rings of the Dead which can either revive the dead or grant the living eternal life. Gamma Akutabi is the main character. He is motivated by the thought of immortality. Elwood on the other hand is on a mission to revive a dead family member. They are a very genuine duo and I think that's what I really appreciate about the manga. There's a lot subtly in the dialogue. Akutabki and Smith are talking about how they would never partner with someone who would get themselves killed so easily. Yes, Akutabki and Smith are addressing each other but they are saying this to Elwood, who is a young, goodhearted kid. This scene really makes it appear Akutabki appreciates and respects Elwood despite the age difference. I just really like how to two play off of each other.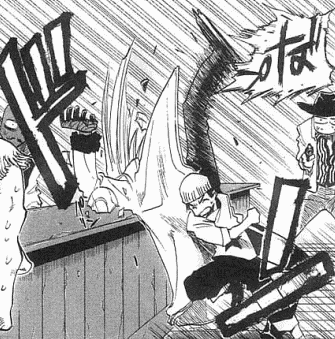 One complaint the manga developed over time was an uninspired plot an unoriginal character designed. Personally, neither of these bothered me at all. I can get gripes if you do not like this genre or maybe even getting burned out of the genre. However, if you really like this area of manga, this going to feel like home. In fact, part of the manga felt like those old school Dragon Ball adventures. The manga only ran for about a year so it should be easy to complete and read.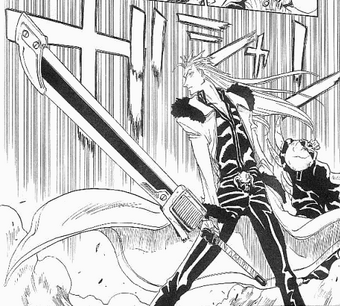 This manga is perfect for anyone who wants to relive the glory days of the early 90's into the 2000. Naruto and One Piece were beginning to make their ascension into the goliathes of manga while Kubo was starting to make a name for himself. Filled with likable characters, questionable jokes and more severed heads and disembodied bad guys than you can shake a chainsaw sword at, Zombie Powder proves to be a nonstop joyride from the first page to the end of the chapter.
I'll give it a very solid 7 out of 10. The criticism was all about how easily forgettable and lost in the shuffle this manga was. Now, while I enjoyed the first volume, no one ever talks about this series (I'm not sure how many even know it exist). Meaning, the critics, I guess, were right. However, I would love to find volume 2 for roughly the same price one day.
Posted on December 22, 2020, in 2020, Manga Monday and tagged DaHubbz, Dahubbz Reviews, Dahubbz Reviews Mangas, Manga Monday, Zombie Anime, Zombie Mangas, Zombie Powder, Zombie Powder Manga, Zombie Powder Volume 1, Zombies. Bookmark the permalink. 1 Comment.