Daily Archives:
December 28, 2020
Psyren is a pretty obscure manga here in the states. In fact, unlike a lot of books we have reviewed, I had never heard of it before. However, I assume it was at least somewhat popular in Japan as it ran for 3 years and was collected into 16 volumes. Wiki tells me, "Volumes from Psyren have commonly appeared in Japan's best-selling lists of manga volumes" stated here.
The first chapter was a bag of mixed goods. The art was off-putting at first but quickly grew on me. The main characters and some of the side characters shined enough for me to enjoy them. However, the story was set up like a mystery and the cuts and jumping around were fast and furious, making it hard to really understand.
The second chapter did not really help matters as our main character, Ageha Yoshina, was whisked away into the fantasy world of Psyren. In it, we leave the familiar scene of the Japanese cityscape and bustling schoolgrounds, for a savage wasteland.
Monsters of all shapes and sizes could emerge at any second. Some winged beast patrolling the air. Others, centipede like foes devouring those who walk on land. And the coolest of all, a Taboo humanoid relentless hunter. The interesting design and sheer ruthlessness of these creatures helps make up for the somewhat bland ravaged landscape the story now unfolds in. The lovable sister, the deranged occult researcher, and Ageha's friends have now been left behind in the regular world. I was bummed at first as I wanted to get to know those side characters more.
The one character from the first chapter to accompany Ageha was Sakurako Amamiya. I was a little let down at first. She is dubbed the Ice Queen because she is cold and keeps to herself. She spends most of the second chapter and maybe even the third, incapacitated with a fever and battle wounds. However, as the chapters go along Amamiya really begins to steal the show. She is drawn in a creepy yet charming manner complimenting the eerily foreboding and often cryptic dialogue she shares with the other characters.
Amamiya has been playing the Psyren game by far the longest out of any of the characters. As a result, she knows far more than Asage, a random man they meet in the world of Psyren, and Ageha could ever hope to know. Regardless, by the end of the volume presumably all 4 of the remaining contestants escape from the world of Psyren and return to present day Japan. "Present" is a pretty big modifier here as the big reveal is Psyren is just Japan set in the future. A future where, for undisclosed reasons, Japan has been devastated. All that remains are destroyed buildings, taboo creatures, and the promise of a painful death. Psyren has a pretty big emphasis placed on future uncertainties, unavoidable calamities, and the undeniably, impeding destruction of the world. However, all this fear is addressed in the first few pages and then dismissed. In fact, other than being the reason Psyren is said to exist, most of these problems are never even addressed again. I might be speculating here, but with such a big deal made in the early pages, it being the motivation behind the world organization, and the future Japan being nearly unrecognizable, I'm guessing all these issues will become factors as the story unfolds.
Recap: This was an enjoyable read. I am a big fan of school yard animes so I enjoyed the early scenes and was a little saddened when the story veered in a different direction. To be fair, as the story progressed in Psyren, it felt a lot more focused and less all over the place. Amamiya began to get a little more fleshed out. The characters as a whole got more detailed. The fight scenes pick up a lot. And the Taboo creatures got a lot of the spotlight as the main characters tried to survive their onslaught.
I purchased this book over the summer when I was gathering a lot of mangas for less than 4 dollars a piece and do not regret it. If fantasy worlds, albeit a ravaged one in this case, some cool main characters and secret world organizations sounds like something you would enjoy, then I highly recommend this manga, especially if you find it in the budget section.
Action: There was plenty in this issue and I am sure plenty more where that came from.
Romance: It is hinted he has a crush on a girl in their class. However, Ageha and Amamiya might end up developing a thing as the series continues.
Plot: The plot is probably the most up in the air thing at the moment. It has the makings of a great story but it has been jittery at times to downright all over the place. But at its high point it is an interesting and engaging mystery.
Characters: A lot of the characters are in that "mysterious phase" or "undeveloped phase" but most are fun or interesting enough on the surface that you want to see more of each. Agenha is a really cool main character and Amamiya and Asage compliment him very well.
The World: I find the world interesting solely from an environmental standpoint. Take that away and the future world is meant to be a world gone wrong.
Humor: This is another one of those Shonen Jump mangas that is nowhere near peak comedy but has enough humor in it to make you laugh from time to time and break up the bleak, dire situations the characters find themselves in.
Verdict: I never know how to rate mangas like this. I think 7 is a solid score so I'll go 7 out of 10. It is another series where I feel how the story ends could boost the overall score or really hinder it. As it stands on its own, it is very pleasant and makes you want to read volume 2. Which I will be on the look out for.
This probably the last manga review of the year! Wild. I might do a overview post in the coming days or even tonight. Just got to see. If I manage my time well, you should an anime review or two to close out the year. Follow for blog post just like this.
Thank you for reading and have a great day!
Today, I just want to reminisce about a memory of my mom. My mom is kind of notorious at this point for just deciding what she is going to buy you instead of listening to what you ask (She will still ask you what you want though). At first this kind of got on my nerves. Then I realized it made Christmas exciting. One year, I just asked for a bunch of cool designed T's centering around video games. She managed to buy just one of the correct shirts. The rest she just completely guessed on. For the most part she was in the ball park. However, some how one shirt she bought twice. And another of the shirts was a size too small, so Jessica just got that one. This year, she asked what underwear I use. I gave her the brand, size, and style. Well, she got the size and style right but bought a completely different brand. I definitely no longer hold this against her because, again, it adds a layer of surprise.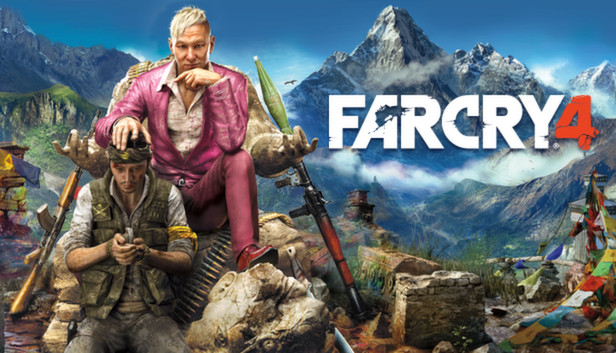 However, my favorite story, the one that stands out the most to me, is by far Christmas of 2014. I was a huge Wii U and 360 fan at this time. My 360 collection was massive and on the Wii U I had a lot of the highlights: Windwaker, 3D World, Smash Bros and a few more. Mom asked me what I wanted for Christmas and by far the games I wanted the most were Madden 15, Borderlands Pre-Sequel and Far Cry 4. Far Cry 4 had just come out around my birthday but I had to get Pokemon Alpha Sapphire. So it was high on my want list. My mom got me 3 video games that year.
Opening the first game: Madden 15. Nailed it.
Opening the second game: Borderlands Pre Sequel. We are rolling.
Down to the last game. It can only be one thing. My most anticipated game of the year (Left for me to get of course.) My dad actually got the original Far Cry on the Wii for my brother and I. We played it, we loved and we hated it due to motion controls. We skipped Far Cry 2. Far Cry 3 was released and became an instant classic. I was so confused. Everyone at my school loved it. Needless to say, I was determined to get my copy of Far Cry 4. Last present, here we go.
Opening the third game: NINTENDOLAND! More like NintenNO Land… I pulled my mother over to said and gave her a mental evaluation. I asked her how in the world she got Nintendoland out of Far Cry 4. I mean, I was even on the phone with my mom when she was in Gamestop. Her response, and I cannot make this up, "I thought you would have more fun with Nintendoland."
This blew me away. At the time, she was definitely wrong. Borderlands, Bioshock, Modern Warfare 2, Gears of War, these were the games I loved playing back in 2014. I was a 19 year old college student. To think I would have more fun with a game that seemingly required 2 players was mind blowing. For the rest of the Christas break I did subject Jessica and family members to play it with me. Ultimately, I did learn to enjoy the game even though I mostly played the one player games like Yoshi and F-Zero. As time went on, I would bring my Wii U to friends and family houses and Nintendoland became a rotation favorite.
I went to Michigan to visit my cousin. He had a friend over and we played 4 player Nintendoland. They each said if they knew how fun this game was, they might would have bought the Wii U. This little game is far from great but it is a fun one for parties, casuals and hardcore games alike.
To this day, I still play Nintendoland and I have still yet to play Far Cry 4. The world is funny like that. The game is good and enjoyable, but the story attached is priceless. I hope you guys enjoyed this.
What is your favorite gift from Christmas past? What a gift you had to pretend to like? Got any stories like this? Share down below!
Happy Holidays and thanks for reading!