Blog Archives
Today, I just want to reminisce about a memory of my mom. My mom is kind of notorious at this point for just deciding what she is going to buy you instead of listening to what you ask (She will still ask you what you want though). At first this kind of got on my nerves. Then I realized it made Christmas exciting. One year, I just asked for a bunch of cool designed T's centering around video games. She managed to buy just one of the correct shirts. The rest she just completely guessed on. For the most part she was in the ball park. However, some how one shirt she bought twice. And another of the shirts was a size too small, so Jessica just got that one. This year, she asked what underwear I use. I gave her the brand, size, and style. Well, she got the size and style right but bought a completely different brand. I definitely no longer hold this against her because, again, it adds a layer of surprise.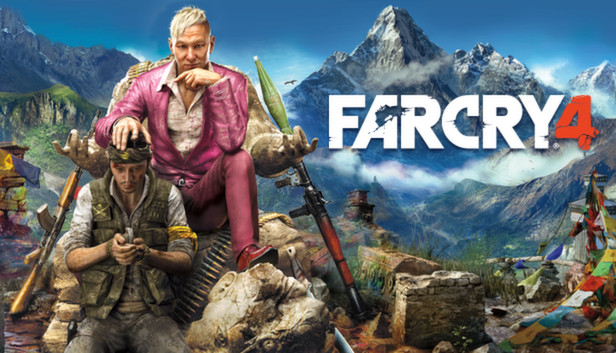 However, my favorite story, the one that stands out the most to me, is by far Christmas of 2014. I was a huge Wii U and 360 fan at this time. My 360 collection was massive and on the Wii U I had a lot of the highlights: Windwaker, 3D World, Smash Bros and a few more. Mom asked me what I wanted for Christmas and by far the games I wanted the most were Madden 15, Borderlands Pre-Sequel and Far Cry 4. Far Cry 4 had just come out around my birthday but I had to get Pokemon Alpha Sapphire. So it was high on my want list. My mom got me 3 video games that year.
Opening the first game: Madden 15. Nailed it.
Opening the second game: Borderlands Pre Sequel. We are rolling.
Down to the last game. It can only be one thing. My most anticipated game of the year (Left for me to get of course.) My dad actually got the original Far Cry on the Wii for my brother and I. We played it, we loved and we hated it due to motion controls. We skipped Far Cry 2. Far Cry 3 was released and became an instant classic. I was so confused. Everyone at my school loved it. Needless to say, I was determined to get my copy of Far Cry 4. Last present, here we go.
Opening the third game: NINTENDOLAND! More like NintenNO Land… I pulled my mother over to said and gave her a mental evaluation. I asked her how in the world she got Nintendoland out of Far Cry 4. I mean, I was even on the phone with my mom when she was in Gamestop. Her response, and I cannot make this up, "I thought you would have more fun with Nintendoland."
This blew me away. At the time, she was definitely wrong. Borderlands, Bioshock, Modern Warfare 2, Gears of War, these were the games I loved playing back in 2014. I was a 19 year old college student. To think I would have more fun with a game that seemingly required 2 players was mind blowing. For the rest of the Christas break I did subject Jessica and family members to play it with me. Ultimately, I did learn to enjoy the game even though I mostly played the one player games like Yoshi and F-Zero. As time went on, I would bring my Wii U to friends and family houses and Nintendoland became a rotation favorite.
I went to Michigan to visit my cousin. He had a friend over and we played 4 player Nintendoland. They each said if they knew how fun this game was, they might would have bought the Wii U. This little game is far from great but it is a fun one for parties, casuals and hardcore games alike.
To this day, I still play Nintendoland and I have still yet to play Far Cry 4. The world is funny like that. The game is good and enjoyable, but the story attached is priceless. I hope you guys enjoyed this.
What is your favorite gift from Christmas past? What a gift you had to pretend to like? Got any stories like this? Share down below!
Happy Holidays and thanks for reading!
Real quick. Dont feel like reading a long article? This discussion exist in video form too on my Youtube channel.
Okay so 2020 has kicked off and people are already speculating on if some Wii U games will be ported to the Switch.  So let's have some fun and look at games that might be coming to the Switch. 
Now believe it or not I actually tried to use some logic with this list. I looked at what people were wanting ported over so I knew there was at least interest in these games, plus the likelihood and how easy it was to port over these games were. Did Nintendo stand to gain anything from the effort,  how would they control on the Switch and so on and so forth. Now here's the tricky thing. I dont think the Switch needs a whole lot of Wii U ports, so while I'll be making a case for I'll have arguments against most of these games. So let's take a look at my list.
#1 This, in my opinion, is easily the strongest candidate of them all. Super Mario 3D World. What? Super Mario 3D World is a gem. I got it basically when I got my Wii U and I wont go too much into detail in this blog but I do have a new found appreciation for this game. Correct me if I am wrong but i don't believe Nintendo has any Mario games lined up the Switch right now which blows my mind. We've carved through the Tennis Mario, the Rabbid Mario, The Odyssey Mario, The New Super Mario Bros, The Party Mario and the Kart Mario so now are waiting for Odyssey 2. This would be a great holdover. I've heard people mention Color Splash but A, that game is dependent on the Gamepad (after talking to myself, I dont think it relies on the Gamepad) and B. I thought people didnt like it? I could be wrong there.
#2. Nintendo Land. Okay, Okay. I have officially lost my mind. This goes against all my rules. But hey, It's a great game. And if I hadnt lost you already, I just did. I thoroughly enjoyed my time with Nintendo Land but again, Nintendo, I believes, wants to give you the option to play in handheld mode exclusively which, just wouldnt work for Nintendo Land. It's too dependant on the Gamepad and probably wont happen. The game may need some reworking around the need for the Gamepad, but I wouldnt be opposed to picking it up again on the Switch if it retailed for say 20 bucks and featured new Minigames and such. Maybe to reflect Bayonetta and Astral Chain, Wonderful 101, Tokyo Mirage Sessions as well as Splatoon.
#3 Wonderful 101- Again you're going to see a constant theme of games needing to be reworked. I think Nintendo and Platinum have something to gain from this release and honestly, maybe it should be my number 2 instead but oh well, the script as already been created. Either way, Wonderful 101 is beloved but it is also stuck on the Wii U which just had such a lower install base. Now, to my knowledge, Platinum Games has been hard at work on Bayonetta 3 following Astral Chain. So I'm not sure if Platinum games would be over seeing the port or how that works. If that's the case, I'm not sure how badly Platinum would want to allocate resources to porting it over. However, it did sale well, a new age of fans would be crying for Wonderful 102 or whatever they decide to call it.
4. Pikmin 3. The first game on the list I have never played. So I cannot speak to how dependent on the Gamepad this game is. Regardless, I kind of disregarded this port considering all of the talk about Pikmin 4. Also, Ive heard people say they would prefer a Trilogy much in the way Metroid Fans are clamoring for. However, if we dont get the trilogy the more and more I write this the more I think this could be a solid port. Pikmin 4 looks like it is taking longer than expected so giving us Pikmin 3 remastered could solve a lot of issues. A. it would tide over Pikmin fans while finishing up Pikmin 4. B. It would introduce a new generation to Pikmin. Pikmin 1 and 2 came out on the Gamecube and a lot of hardcore players jumped off the Nintendo bandwagon with the Wii meaning plenty of people could have missed the 3rd installment after loving the first 2.
#5. Star Fox. What can I say? I enjoy Star Fox even if I've never been into shoot em ups. Again, how dependent are you on the Gamepad? For Star Fox. Entirely. The Wii U Gamepad provides a cockpit view. There's no way to have the Switch provide the same view while also being docked. This game needs a remaster, desperately, but it probably needs to be reworked. If they do it right this could spark interest in a new Star Fox sequel which is never a bad thing. 
So there's my list. Trust me I know there's better games. Splatoon for example is not very dependent on the Gamepad as it just serves as a map. Move that up to the TV screen or do away with it entirely and you're golden. Just not sure if they do this since we already have Splatoon 2 and I think most would prefer Splatoon 3 over a remake of the first. Its the same problem with the other 2 Zelda games. Who wants to re-buy those games for a 3rd time when Skyward Sword is still trapped on the Wii? So I think Mario 3D World and Pikmin have the most realistic shot even if I didnt order them that way. Either way, let me know what games you guys want to see ported over. I really dont think the Switch needs anymore, but they're probably coming none the less.