Blog Archives
Hey guys, were back with more Digimon deck techs! I think this is one of the harder brews to build because it is a midrange deck. This means it is not a linear strategy nor does it just jam 4 of each card. There is a real balancing act for this deck. Before we get into that. You guys seemed to like my last Digimon deck tech of Blue Green Imperialdramon Dragon Mode. If you have not read it, feel free to read it here. It is a bit more aggro relying on jamming and just just going for security checks.
The reason this deck is so challenging to build is because it is a very flexible deck. Meaning it is not a straightforward archetype. For starters, check out the namesake card here.
Piedmon was one of my favorite Digimons from the anime. I was drawn to the value of this card because, quite frankly, the value is outrageous. Being able to return 2 level 4 or lower Digimons is insane momentum. It also helps guide the direction of the deck. However, we lose on play effects. Meaning these guys are the best candidates I could find.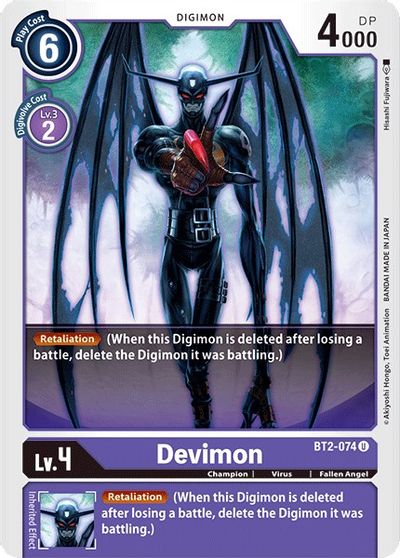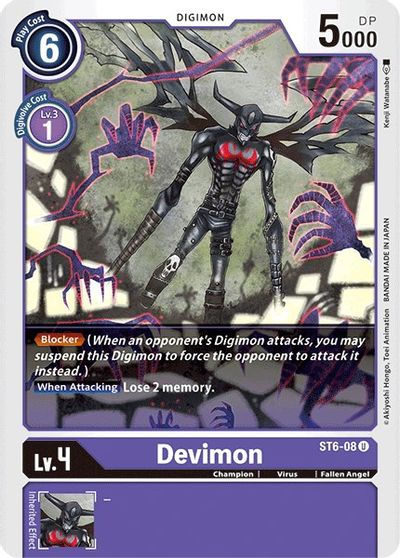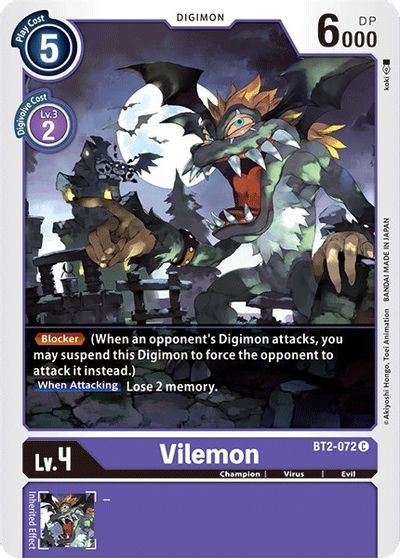 Really, the way I am designing this deck is to be super stalling. Which is why Vilemon and Starter Deck Devimon are great. No on play effects, so that is not a draw back here. Devimon's BT2-074 retaliation is a great recursive ability to use to kill your opponent's Digimon. Currently I am running 4x Vilemon BT2-072 4x Devimon BT2-074 and 2x Devimon ST6-08. But let's also remember we can return Level 3's as well. Sadly, level 3's are really lacking in this deck.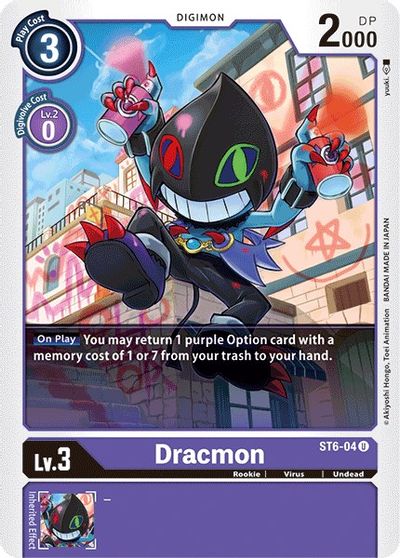 These are two of my favorite to run. With my configuration, I have 3 more spots left. Tapirmon BT2-070, Impmon BT2-068 and Labramon BT4-079 are all interesting picks. I would go with Tapirmon.
If you were trying to turbo into Beelzemon, I would go Impmon. And if Labramon was not an on play effect, I might would go Labramon. However, neither are those things work here, so Tapirmon it is.
Thats the level 3's and 4's for now.
LV 3's
3x Tapirmon BT2-070
4x Gabumon ST60-03
4x Dracmon ST6-04
LV4's
4x Vilemon BT2-072
4x Devimon BT2-074
2x Devimon ST6-08
4x Meramon BT3-083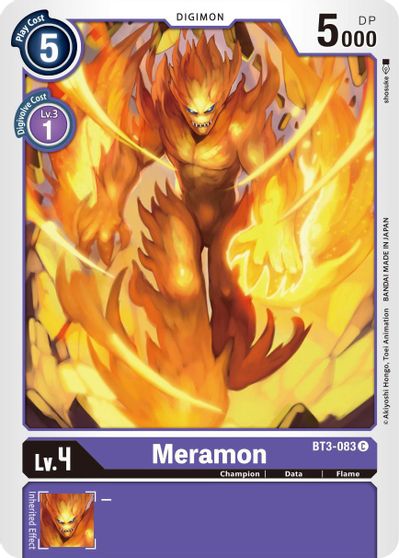 That's right. 4x Meramon too. Now Meramon is not a great return target. It has no abilities like blocker or retaliation. So in a way, even with having 1000 DP more than Devimon, it is not a better attacker. This is because Devimon will kill almost anything it swings into, even if Devimon does not survive. However, it belongs to a cycle of aggro/ramp like creatures. By this, I mean it is a LV 4 with an Evo cost of 1. Look at the other level 4's in the deck. Most LV 4's will cost you 2 memory to evolve. He only cost 1. If your opponent gives you a good amount of memory or you have the 4 cost Purple Matt, you digivovle all the way to your LV 6 in one turn.
Next up are the LV 5's.
4x Skull Meramon BT3-085
4x SkullSatamon ST6-10
3x Kimeramon BT2-077
2x LadyDevimon BT3-088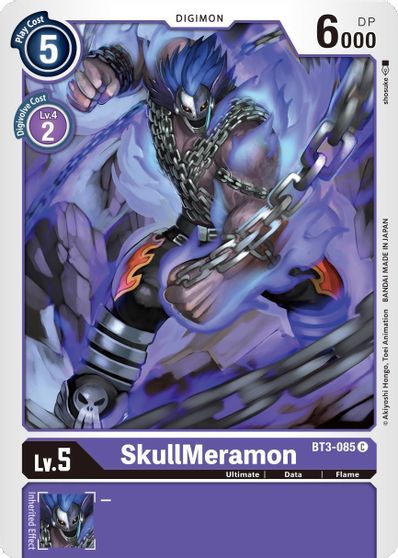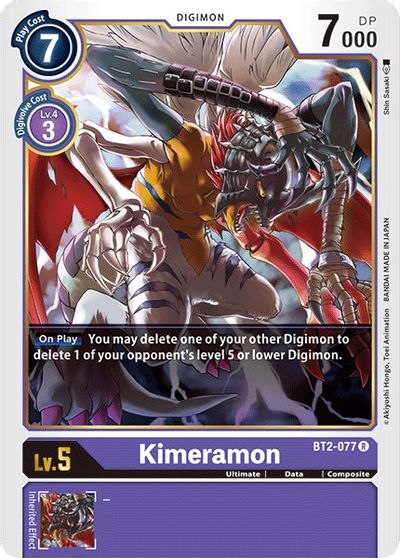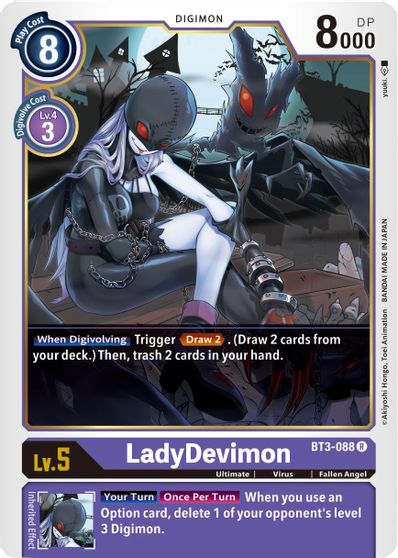 The 5 drops are a confusing bunch of characters. I'm not really sure what to make of all the numbers. SkullMeramon is here to further the ramp plan. This would allow us to aggressively digivolve into our 6 drops quickly. SkullSatamon I feel is needed to help recur our bigger dudes like getting Piedmon back to keep looping lower guys. Kimeramon is a great utility creature. Sometimes I wonder if we should run 2 because we have to blow up our own creature. However, our ability to get back creatures should help offset that drawback. LadyDevimon is probably the biggest question mark. I haven't got to playtest her yet, so she might not fit well. Honestly, might cut her for more options or lower LV Digimons. However, draw 2 seems strong in a deck that does not mind the trash bin.
Finally LV 6's.
2x Mastemon BT3-090
1x CresGarurumon ST6-13
2x Piedmom BT2-080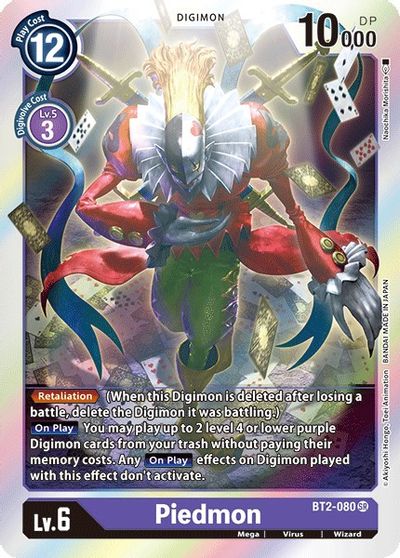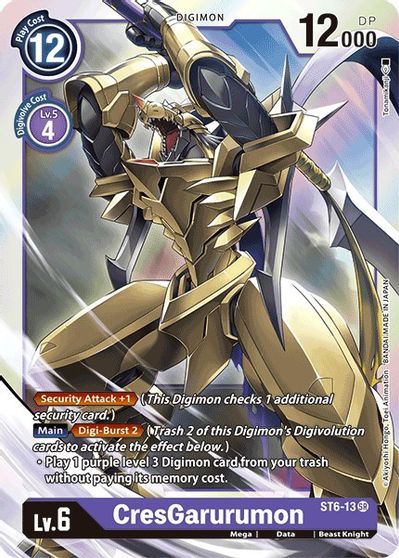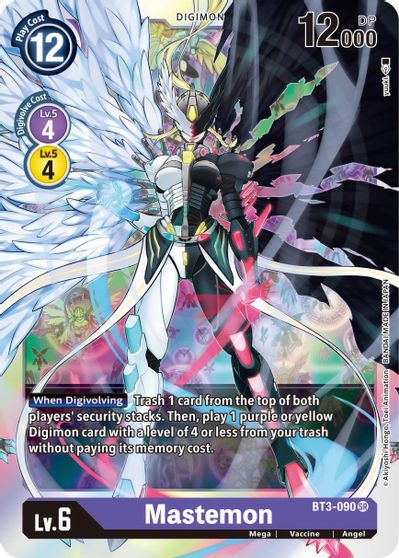 Further more. LV 6's are another tough group. I only have the 2 Piedmons. I might end up picking up 2 more if I like the deck. CresGarurmon is mostly here to get Dracmon back. Since on play effects still trigger, Dracmon can get back Trump Sword or Nail Bone. Mastemon was a last minute addition when I was playing a Yellow Purple Anubismon deck. However, her ability to instantly "perform" a security check and recur a creature seems like too much value to pass up. I own a third one and might add it if I like her enough. The thing I don't like about CresGarurumon and Mastemon is that 4 Evo cost. In the games I have played, my opponents rarely get me above 3 memory, which makes playing them a real cost.
Options and Trainers
2x Trump Sword
2x Nail Bone
3x Purple Matt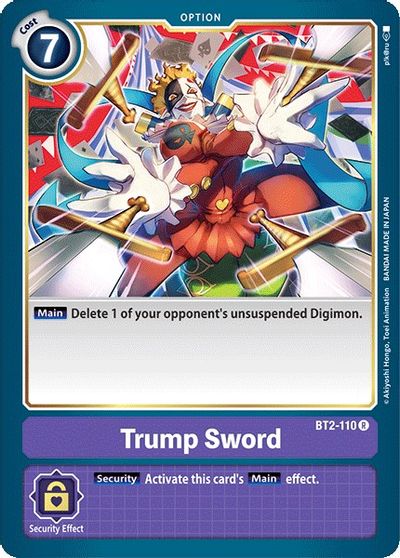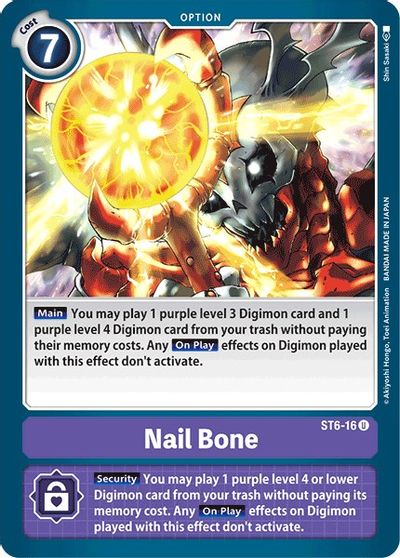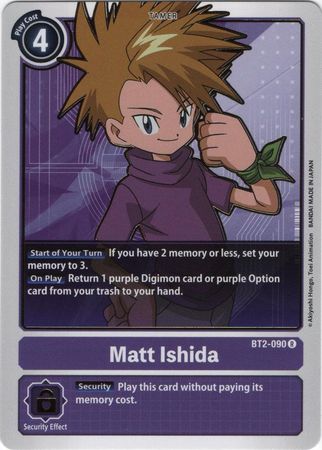 Personally, I find it hard to get Trump Sword to go off. I'm hoping the presence of Blockers and the threat of retaliation keep the opponent from swinging in. If that's the case, Trump Sword should be cast easier. Things can get awkward when the creature you want to kill swings in and reveals Trump Sword off the security check. That can be a feel bad. Nail Bone is great because it is basically extra copies of Piedmon. Purple Matt, I feel, is a must for the deck. Being able to return 1 Digimon or even returning Nail Bone can be a huge swing. On top of that, it fixes your memory allowing for the swift evolving from LV 3, to Meramon to SkullMeramon into a LV 6 all in one turn. I might be tempted to bump it to 4 if I want to cut the LadyDevimons.
Digi Eggs
2x Xiaomon
3x DemiMeramon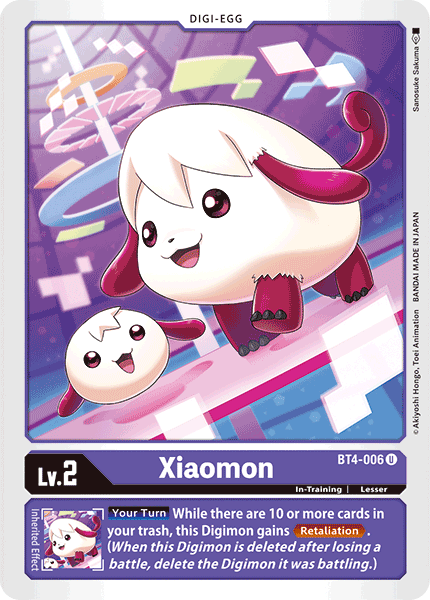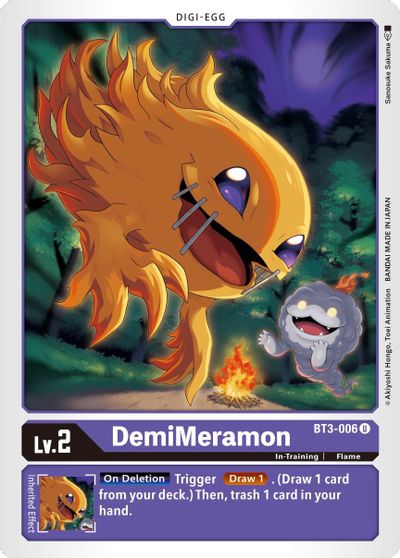 Purple's eggs feel a little underwhelming to me. I can't wait to test out Xiaomon. I assume even with the recursion aspect of the deck, we will still be filling up the bin often enough to trigger Retaliation in the inheritable effect. DemiMeramon is here because I like his effect more than Yaamon or Pagumon. BT6 will give us Tsunomon with a better effect. Check it out here,
So here's the official deck list for now! Starting with eggs and moving from LV 3 and up and ending with Options and Tamers.
Digieggs 5
2x Xiaomon
3x DemiMeramon
LV 3's 11
3x Tapirmon BT2-070
4x Gabumon ST60-03
4x Dracmon ST6-04
LV4's 14
4x Vilemon BT2-072
4x Devimon BT2-074
2x Devimon ST6-08
4x Meramon BT3-083
LV 5's 13
4x Skull Meramon BT3-085
4x SkullSatamon ST6-10
3x Kimeramon BT2-077
2x LadyDevimon BT3-088
LV 6's 5
2x Mastemon BT3-090
1x CresGarurumon ST6-13
2x Piedmom BT2-080
Options and Tamers 4/3
2x Trump Sword
2x Nail Bone
3x Purple Matt
Here's a bad picture of the deck
Changes
With only 11 LV 3's I could see someone not liking that. Remember we aren't an aggro deck in the sense that we aren't out to hit all their security checks ASAP. However, that cost us some early draw power off of digivolving. I might remove the LadyDevimons for early 3 drops. In a similiar manner, we could run some Yellow digimons to better utilize Mastemon. If that was the case, we could also run Wizardmon.
I could totally see you wanting to go with this angle if you want more retaliation than blocking power. You could run this set if you want to attack more than being passive. My problem is what yellow Digimon would we even run? You could run Falcomon and BushiAgumon if you wanted to run an aggressive rookie rush build. In fact, that was part of the original Anubismon deck. You could still run Dracmon and Nail Bone and have LV 3s and 4 to recur. You could run Unimon if you wanted another blocker. This starts to become an entirely new version of the deck though. As I think it is entirely too hard and not worth it to splash yellow just yet. However, I definitely would like some form of recovery that yellow provides. I just don't think the card exist yet for that version.
Other cards I would be interested in are different options.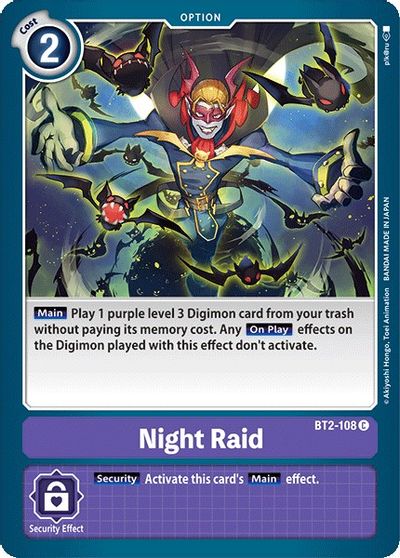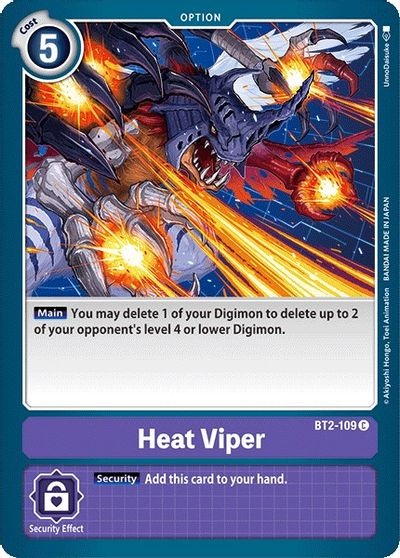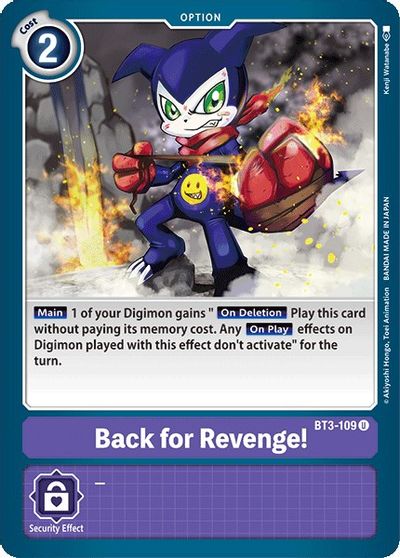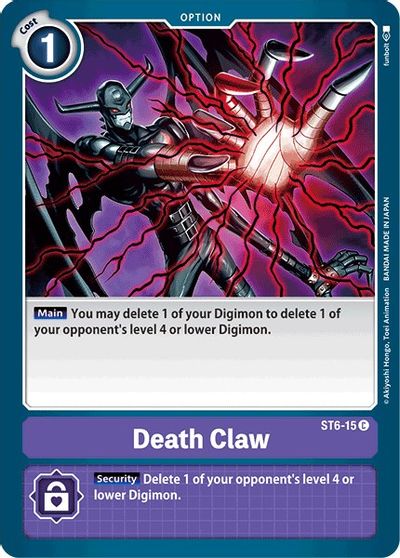 No doubt Back For Revenge and Night Raid gets better in an Anibusmon shell. Heat Viper is probably a must if your meta was Rookie Rush but would be terrible in Zoo stacked metas. Death Claw is also amazing if you are up against Rookie Rush all the time. You're able to get it back with Dracmon which is huge against them. But in there lies the issue with the above 3 options. If they were 1 or 7 memory and could be returned using Dracmon, this deck would be insane. As it stands now, Death Claw might still be worth running if you can find the spots for it. If it hits, it is insane value and gets rid of most blockers in the meta and rookie rush threats. If it is ever dead, you can pitch to one of your draw/trash effects and get it back later if it ever becomes relevant. If Digimon ever adds a sideboard, I would jam some in there for sure.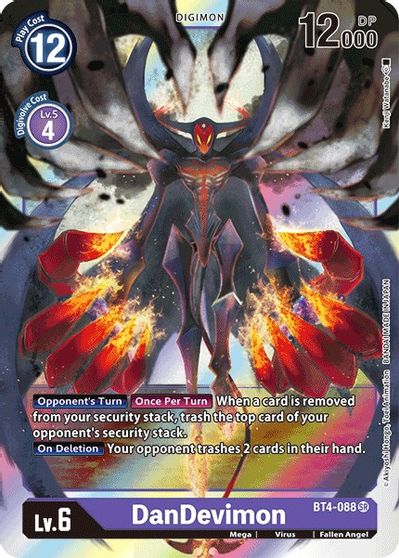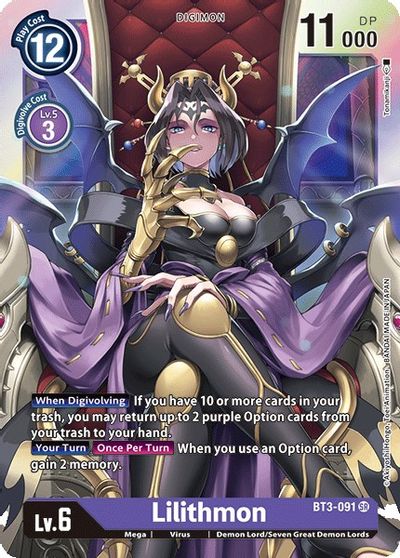 In certain versions of Piedmon Purple, I could see wanting either of these cards over, say CresGarurumon or LadyDevimon or Mastemon. If you run Lilithmon build your deck to maximize and take advantage or the draw/trash effects in purple. You might even run Beelzemon in that build. DanDevimon just looks fun. I've never tested him though. I only own one.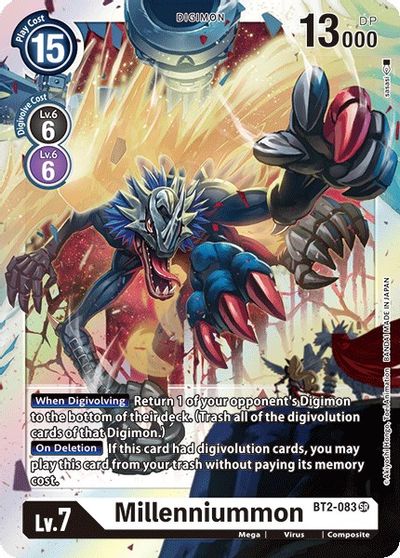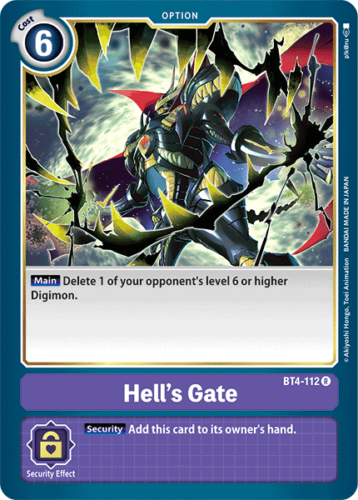 If you find yourself losing to some of the bigger threats like Omnimon, Argomon and Mega Zoo, Milleniummon and Hell's Gate can be used specifically with those cards in mind. Again, if Digimon every adds sideboards, I think that's where these guys belong. If you had a way of recurring 6 memory options, it certainly is worth a 1 of spot with purple's ability to draw/trash (such as trash it on a drew effect and get it back with purple Matt).
So there you have it. That is most of the relevant cards we could discuss. Remember, I brought up a lot of different ways to build the deck and different flex cards that are totally meta dependent. If you verse a wide meta with many different strategies and win conditions, Purples ability to turn dead cards into live draws is a huge plus. I personally did not construct this build that way. I focused more on getting blockers back and hiding behind retaliation creatures. But that makes this deck a great option for a wide event. However, since this is not a set in stone archetype, I highly recommend playtesting with your locals and finding what tools you need. As stated, Death Claw and Heat Viper will completely rock Rookie Rush but be stone cold dead to Mega Zoos. Piedmon Purple lacks a true dedicated route to victory. It hopes to kill stuff, block stuff, and eventually outlast the opponent. Gaia Force being Red instead of Purple is a real shame here. No, I'm not sure it is worth splashing red to get access to it, for now. I don't feel like BT4 added much to this deck unless you went for the Anibus Shell or added DanDevimons at the top of the curve over the other 6 drops.
So, please tell me what changes you would make. Midrange decks are always so hard to get the numbers right.
Also, tell me what decks you want to see next. I'm most interested in: ShineGreymon Yellow, Some Black deck, Argomon/Ceresmon Green, Chaosmon, or maybe even a MegaZoo deck. I have some other ideas kicking around about Purple, but I will wait.
I am also thinking of doing an upgrading the starter deck post. Basically where we talk about what upgrades you could bring to those decks to be ready for locals play.
This was a long one and I thank anyone who reads and/or comments ideas and suggestions. Thanks so much guys! Have a great days!
Before we get started, which do you guys like better? Deck Techs or Deck Profiles? Either way, today we are doing our first deck breakdown of the season. In 1.0 I built a mono blue aggro deck that looked to eliminate digi evolution cards underneath the opponent's digimon and gain bonuses that way. I loved that deck. I still do. However, I said it needed an early jammer. Well, 1.5 heard me.
This is the card that got me started. Veemon was my favorite Digimon from the anime when I was younger. I wanted to build a strict Veemon deck featuring his linage.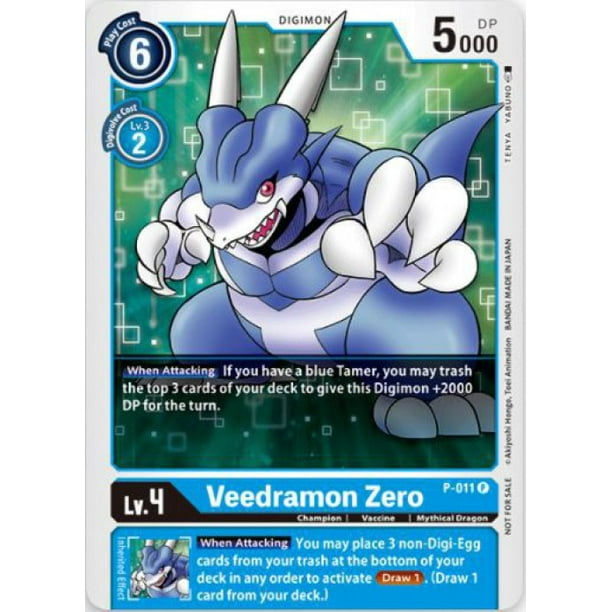 I wanted to build around his whole line but ditched that idea when I saw another card.
The early Veemon build thought me something. Attacking twice and with jamming is super busted. It is one of the best things to be doing in early Digimon. However, I found too many of the cards I was playing either made you jump through hoops for the jamming or the second attack. I switched gears once I realized I had most of the cards I needed for the Imperialdramon Dragon Mode deck.
Let's start with the eggs:
4x DemiVeemon (BT3-002) 1x Demiveemon (BT2-002)
Both of these eggs are pretty great for the deck. I run the 4x BT3-002 version because the jamming is more reliable than the unsuspend. However, card draw, while very powerful, is not what this deck is lacking. I could see running the BT2-002 version if you wanted the extra 1,000 DP. As a sidenote, about 80% or more of our LV4 and up Digimons have jamming, so the DP when attacking is a moot point. I could see it being beneficial if you wanted to go hyper offensive by first doing a security check, unsuspending, and then attacking their Digimon. I find that 9 times out of 10, I go for the security stack, so the 1,000 DP is really pointless to me.
LV 3 Digimons
3x Gabumon (BT1-029) 4x Veemon (BT3-021) 3x Elecmon (BT1-028) 3x Gomamon (ST2-02)
Veemon is probably the best 3 drop in the deck. The jamming lets us apply pressure early without losing our dude. It can be punishing against slow decks that cannot attack back into him the following turn. Gabumon is probably my second favorite as he draws a card on play. He allows you to set up another Digimon on an egg, play him in the arena and still get the card draw. I could see cutting him if you want sheer power over the drawing he provies. There are plenty of blue LV 3.s to play if starter deck cards are banned where you play in Gomamon's case (they are not where I play, but I have read about that online.) Everybody loved Elecmon in 1.0 because of his 2 memory cost and 3,000 DP. He is a solid aggro creature.
LV 4 Digimons
3x Frigimon 2x Grizzlymon 4x ExVeemon 4x Ogremon
Frigimonmon is a solid creature with jamming. Grizzlymon does not have jamming nor is he aggro, but his ability to block on turns when we need to build our board or avoid dying has made me want to play more. ExVeemon is here with his synergy with Frigimon, Veemon and Ogremon. Unsuspending them can help give you real momentum. He can unsuspend a Veemon he digivolves onto, but he loses jamming that way. Ogremon is here to help make Davis Motomiya a real card advantage machine. Plus he has jamming.
LV 5 Digimons
4x Dinobeemon 4x Paildramon
These guys being Green Blue hybrids helps a lot. Dinobeemon provides jamming which can help in a pinch while Paildramon gives himself the ability to unsuspend with no troubles when he digivolves. Both are hits for Davis and both cleanly evolve into our 6 drops.
LV. 6 Digimons
4 Imperialdramon Dragon Mode Blue 2x Imperialdramon Dragon Mode Green 2x Puppetmon
Imperialdramon Blue is a great beast to have in this deck. He has jamming and when he digivolves, he unsuspenses all your other jamming Digimons which can let you just swing over for the win in some games. Imperialdramon Green lacks that same instant unsuspend mechanic but his piercing allows you to take out enemies and then unsuspend to check a security card. It requires more work, but can be used to play offense and defense to great effect. The 2 Puppetmons are kind of like utility. He can tap down a threat so they cannot swing in for the kill or he can suspend a Digimon we might want to attack. He can also tap down blockers who might get in our way.
LV 7 Digimons
1x Omnimon (BT1-084)
This Omnimon is here to mass kill Argomons (because its all Digimons that share a name!) and to kill other Omnimons. Our dudes can be small so to have a creature that can kill our opponent's biggest threat is handy. If you don't have Omnimon, I might just run another Puppetmon, Digimon with Jamming, a removal option, or a pump spell to help our piercers attacking into their Digimons.
Options and Tamers
3x Boring Storm 2x Cocytus Breath 2x Davis Motomiya
These are by far my 2 favorite options in blue. Cocytus Breath can be very effective against decks relying on establishing inheritable effects. Boring Storm helps draw out of slow starts and is a good top deck. Davis is great for getting out of memory locks by your opponent. He also has the added bonus of potentially drawing 2 cards! If you cut Davis, cut Ogremon. Ogremon can never be digivolved from your LV 3s thus he is not great for memory control.
So, that is my list. I've been cleaning house most of the day and fell behind on getting everything finished. I want to update this in a few days with what I consider are the decks biggest weaknesses, BT4 updates, budget options or money upgrades. It will probably be its own post. Either way, thanks for reading and have a great day everyone.